ATSU-ASHS celebrates 25 years of growth, excellence in health sciences
Posted: September 22, 2021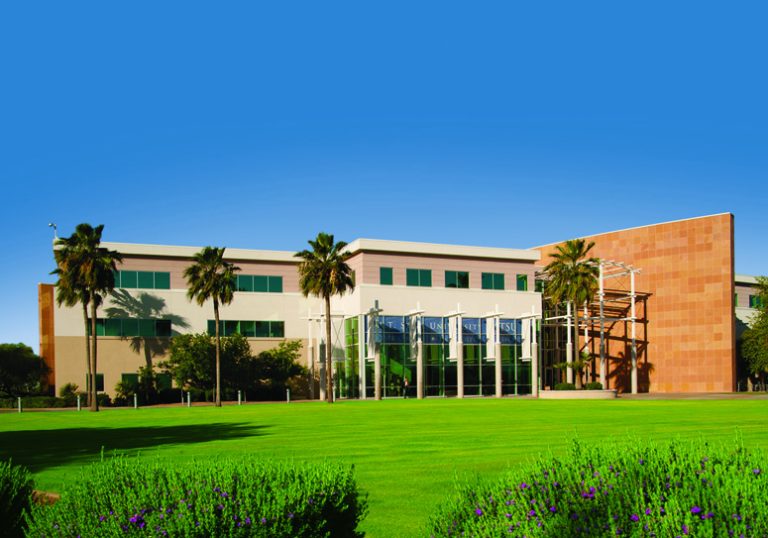 In December 2020, ATSU-ASHS celebrated its 25-year anniversary. Faculty, staff, and alumni connected with one another online to learn more about the School, including its history and its plans for the future. The celebration started with Ann Lee Burch, PT, EdD, MPH, dean of ATSU-ASHS, welcoming and thanking ATSU President Craig Phelps, DO, '84; Norman Gevitz, PhD, senior vice president-academic affairs; and Ted Wendel, PhD, senior vice president, university planning and strategic initiatives, for their leadership and support.
Initially, the School was created in 1995 as a branch of ATSU-KCOM called KCOM Southwest Center for Osteopathic Medical Education. During summer 1995, construction was completed on the buildings for classes to start that fall. All students enrolled in the first fall semester signed a letter knowing the School was not fully accredited yet, said Randy Danielsen, PhD, PA-C emeritus, DFAAPA, professor and director of the Doctor of Medical Science program and inaugural dean of ATSU-ASHS.
"Those inaugural students trusted us to create quality programs and obtain ongoing accreditation," Dr. Danielsen said. "We did not let them down."
At first, the School had four programs: Physician Assistant Studies, Physical Therapy, Occupational Therapy, and Sports Healthcare. The first graduation was held in August 1997 for Sports Healthcare and Physician Assistant Studies, and their diplomas stated the original name, KCOM Southwest Center. Shortly after this graduation in 1998, ATSU-ASHS became its own school.
ATSU-ASHS was growing and needed more space. Hence, the School moved to Mesa, Arizona, during the 1999-2000 academic year. The new campus had over 50 acres and plenty of room for expansion. Dr. Danielsen explained how they continued to add more programs and developed post-professional programs in each discipline.
Today, the School has many more programs than the original four. They have residential programs in Athletic Training, Audiology, Occupational Therapy, Physical Therapy, and Physician Assistant Studies. Their online programs include Athletic Training, Audiology, Physical Therapy, and Doctor of Medical Science. The School has also added residency programs and online certificate programs.
All ATSU-ASHS departments have made great accomplishments and look forward to more success to come. Each department chair, including Eric L. Sauers, PhD, ATC, FNATA, '97, chair and professor, interdisciplinary health sciences; Tabitha Parent-Buck, AuD, chair and professor, audiology; Jyothi Gupta, PhD, OTR/L, FAOTA, chair and professor, occupational therapy; Lori Bordenave, PT, DPT, PhD, '07, chair and associate professor, physical therapy; Michelle DiBaise, DHSc, PA-C, DFAAPA, '14, chair and professor, physician assistant studies, delivered remarks and highlighted goals of their respective departments.
ATSU-ASHS will be growing in many ways in the coming years. Dr. Burch is proud of the School's history and is looking forward to future accomplishments. For example, Dr. Burch said the School would build on its efforts in diversity, equity, and inclusion; continue to develop flexible and innovative curricular modules driven by chairs and program directors; and expand research productivity from faculty, students, alumni, and the continuity and potential of interdisciplinary collaboration.
"Individuals and communities need graduates of ATSU-ASHS, providers who believe in whole person healthcare, serving the underserved, and a lifelong commitment to learning and service," Dr. Burch said. "The School is a success because of the contributions of each and every member of the ATSU-ASHS community."
In honor of ATSU-ASHS' 25-year anniversary, please visit giving.atsu.edu/ashs-25 to support the School and its initiatives.