ATSU-ASHS Audiology students host annual E.A.R. Day
Posted: November 3, 2023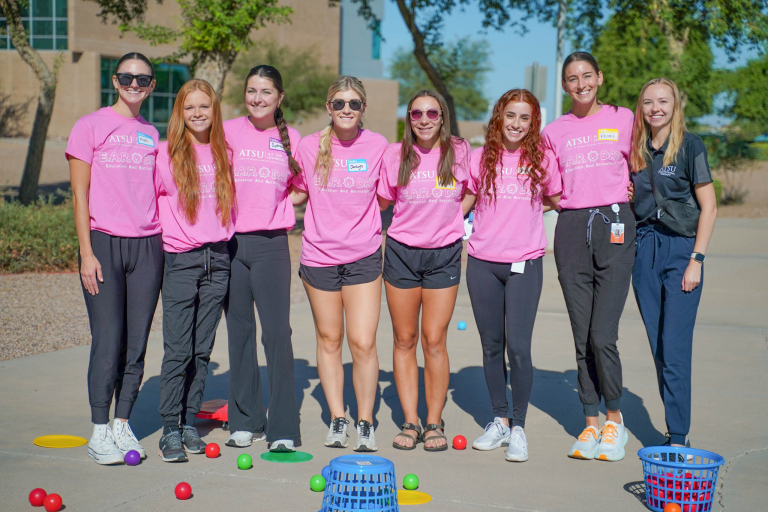 The eighth annual E.A.R. Day, a fun-filled day of learning and games for Deaf and Hard-of-Hearing children and their families, was hosted by A.T. Still University-Arizona School of Health Sciences (ATSU-ASHS) Doctor of Audiology students on Saturday, Oct. 14, 2023, on the Mesa, Arizona, campus.
First held in 2015, E.A.R. Day was organized by ATSU-ASHS alumna Lisa Bell, AuD, '16, after Bell received a HEAR (Humanitarian, Education, and Awareness Resources) grant from the National Student Academy of Audiology (SAA).
With an obstacle course, face painting, pumpkin painting, and more carnival-style games, there was no shortage of fun at E.A.R. Day this year. While children rotated through each activity, family members had the opportunity to learn more about hearing, hearing protection, communication strategies, and more from a variety of guest speakers.
Roughly 80 students and faculty members from different ATSU programs volunteered to help make this year a success.
"This year we hit a record amount of kids and the best part is just seeing all their smiles and hearing their laughs throughout the day! It's really amazing how many other programs also enjoy coming and helping out. It truly is a campus-wide event," said third-year audiology student and E.A.R. Day Chair Sara Janssen, '25.
Check out photos from the event below!