ATSU-ASDOH welcomes 78 new dental students with White Coat Ceremony
Posted: July 20, 2022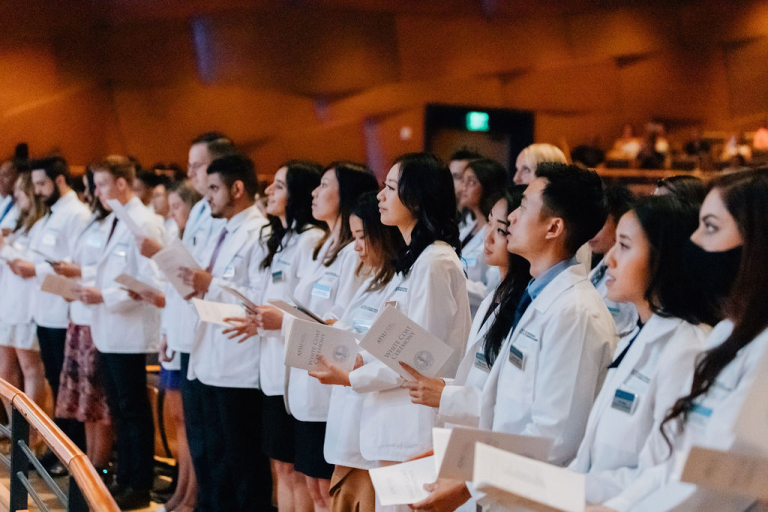 A.T. Still University's Arizona School of Dentistry & Oral Health (ATSU-ASDOH) welcomed the class of 2026 with a White Coat Ceremony on Friday, July 15, 2022, in Mesa, Arizona. 
ATSU-ASDOH Dean Robert Trombly, DDS, JD, invited the 78 new students to reflect on the path that brought them to this moment.
"Today marks a very special moment in the life of our school, as we welcome the class of 2026, who are beginning their journey into the profession," Dr. Trombly said. "Think about the experiences you've had, the ups and downs, the successes, a few failures along the way, as well. It's made you who you are today, and it's brought you here to A.T. Still University-Arizona School of Dentistry & Oral Health, as a member of the class of 2026."
ATSU-ASDOH student Maria Beckett, D4, vice president of the class of 2023, reminded her new classmates the ceremony marked only the beginning of an important journey.
"Here, you will turn your aspirations into achievements. You will foster valuable connections. You will learn a lot, and you will use your talents to serve others as you strive to make this world a better place," Beckett said.
ATSU-ASDOH Vice Dean Wayne Cottam, DMD, MS, led students in reciting the Oath to the Profession. Dr. Cottam told students today marked a pivot point in their education, changing from a life dedicated to education for their personal benefit, to one for the benefit of others.
"The purpose of this phase of your education is less and less to benefit you and to help you achieve your goals, and more and more to benefit your patients and society, and is to be used principally to help your patients and society achieve and maintain health," Dr. Cottam said.
Watch the ceremony here: