ATSU-ASDOH spreads smiles at 16th annual Give Kids a Smile event
Posted: March 8, 2023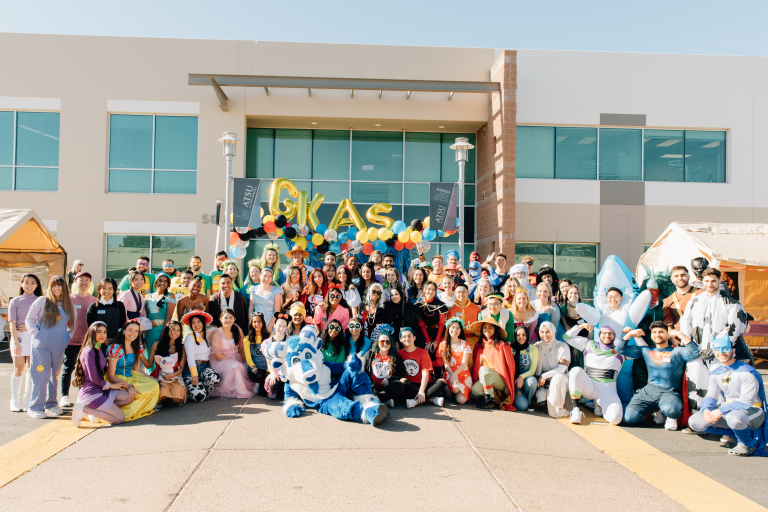 A.T. Still University-Arizona School of Dentistry & Oral Health (ATSU-ASDOH) and the Arizona Dental Foundation partnered up on Feb. 24, 2023 for the 16th annual Give Kids a Smile (GKAS) event at the University's Mesa, Arizona, dental clinic, where 90 uninsured children received free dental care.
Approximately 270 ATSU-ASDOH students participated in this year's event as assistants, providers, escorts, and characters. ATSU-ASDOH faculty, staff, and alumni also assisted throughout the day's events, along with local volunteer dentists.
Launched nationally in 2003 by the American Dental Association (ADA), the GKAS program provides free oral healthcare for underserved children with a goal to ensure access to quality oral healthcare for all.
Since its founding, GKAS has provided dental care for more than 7 million children across the U.S. Each year, more than 6,000 dentists and 30,000 dental team members volunteer at local GKAS events in their communities.
Services provided at this year's event included preventative care, such as comprehensive exams, cleanings, sealants, fluoride varnish, and more, in addition to any emergency care needed.
"We changed the focus this year and instead of one big day providing restorative treatment, our new goal is to bring these patients back on a monthly basis to establish a dental home for them," said Jessica Hochschuler, D3, GKAS co-chair.
Hochschuler explained that if a child did end up needing aftercare, their guardians were contacted afterward in order to schedule their child's next dental visit in ATSU-ASDOH's pediatric department.
In addition to providing dental treatments, ATSU-ASDOH students also organized an outdoor carnival, where they set up carnival games and face painting for the pediatric patients after they received their treatments.
First-year dental students dressed up in a wide variety of costumes to help ease nerves and make the day more fun for all in attendance. From princesses to superheroes to cartoon characters, there was no shortage of creative characters to help spread smiles at this year's GKAS.
Check out photos from this year's event below!