ATSU-ASDOH receives funding for continuation of Smiles Across Pinal County program
Posted: January 31, 2023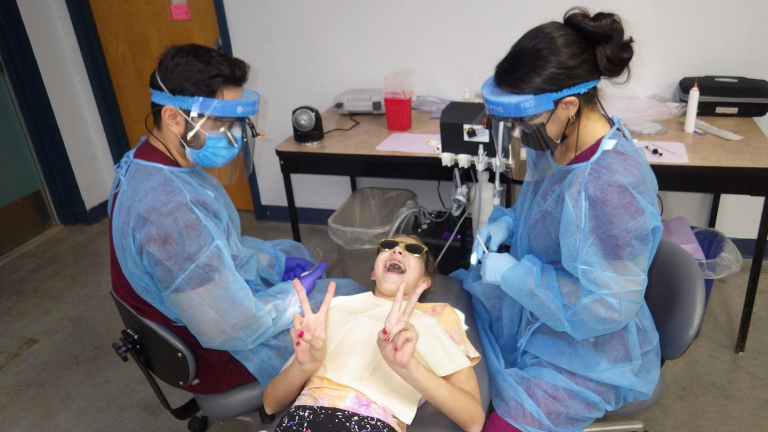 Students perform dental work at a junior high school as part of ATSU-ASDOH's Smiles Across Pinal County program.
A.T. Still University-Arizona School of Dentistry & Oral Health (ATSU-ASDOH) recently received $50,000 from Delta Dental of Arizona for a one-year continuation of its Smiles Across Pinal County (SAPC) program, a school-based program that provides preventative dental care and sealants for at-risk and underserved youth in Pinal County, Arizona.
This is the ninth consecutive year Delta Dental has provided ATSU-ASDOH with funding for this program. The SAPC program has been providing dental services for the past 11 years. The grant was secured by Heather Johnson, MEd, RDH, and Yvette Thornton, MPH, RDH, co-directors for ATSU-ASDOH's Dentistry in the Community program.
The SAPC program serves as a clinical rotation for third-year ATSU-ASDOH students, who provide affordable dental sealants, fluoride varnish applications, oral health screenings, and more for hundreds of children in the Apache Junction Unified School District.
"The Apache Junction Unified School District views oral health as a priority and our program has been able to provide preventive dental care in a non-traditional setting… . Working in the schools allows children to miss minimal learning time while receiving dental services. These children are excited to come receive dental services while at school," said Thornton.
Not only does the Smiles Across Pinal County program provide oral healthcare for children in need, but it also serves as a learning opportunity for the dental students, who learn how to use portable dental equipment while serving a population they may not regularly serve at ATSU-ASDOH's dental clinic.
"Without this Delta Dental funding, many of these children may never see a dental provider. SAPC serves the mission of ATSU and ASDOH by increasing access to preventive dental care for those in at-risk and underserved communities," Johnson said.