ATSU-ASDOH hosts ninth annual Day for Special Smiles
Posted: May 4, 2023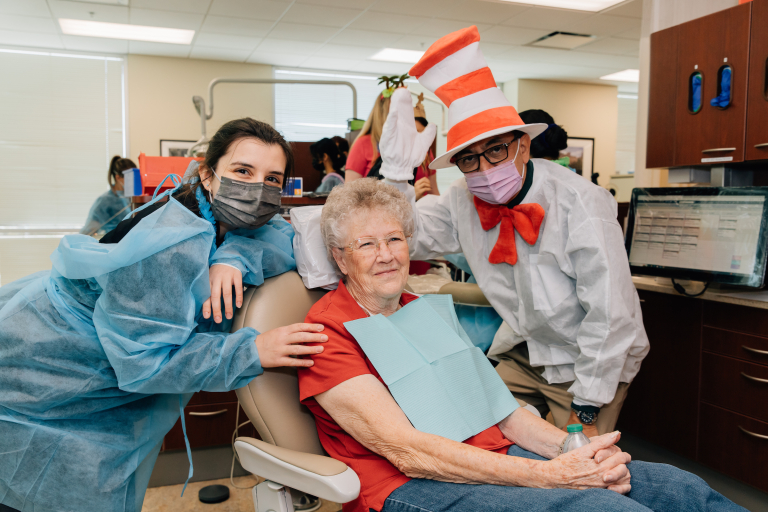 A.T. Still University-Arizona School of Dentistry & Oral Health (ATSU-ASDOH) recently hosted the 2023 Day for Special Smiles event on April 14, 2023. This was the ninth annual iteration of this event. 
Day for Special Smiles provides free dental care for adults with special needs and social and financial barriers through a partnership with Special Olympics Arizona, the Arizona Dental Foundation, and the ASDOH Special Care Dental Association (SCDA) Student Chapter.
Led by faculty advisor Mai-Ly Duong, DMD, MPH, '12, MAEd, FAGD, FSCD, associate professor and director of special care dentistry, this event provides essential care for people who otherwise may not have access to dental services.
More than 130 volunteer students, faculty, residents, and staff participated in this year's event, donning fun accessories, silly hats, and even dressing up in themed costumes, all to help all visitors feel safe and comfortable while receiving care.
"This event was started as a response to the Arizona budget cuts regarding funds for adults with intellectual and developmental disabilities, and has expanded over the years to provide services for people who are underserved: recently incarcerated and homeless individuals, victims of domestic abuse, veterans, and those with acquired disabilities and complex medical conditions," said Dr. Duong.
She added, "These populations are often forgotten about. While this event can only help address immediate pain and infection, we are hoping it helps to move the needle towards legislative policies that will help these populations in the long term."
At the end of the day, more than 40 patients received care at this year's Day for Special Smiles, walking away from ATSU-ASDOH's dental clinic with bright new smiles.
Check out more photos from the day's events below!