ATSU-ASDOH graduates honored at Society of American Indian Dentists blanketing ceremony
Posted: July 13, 2018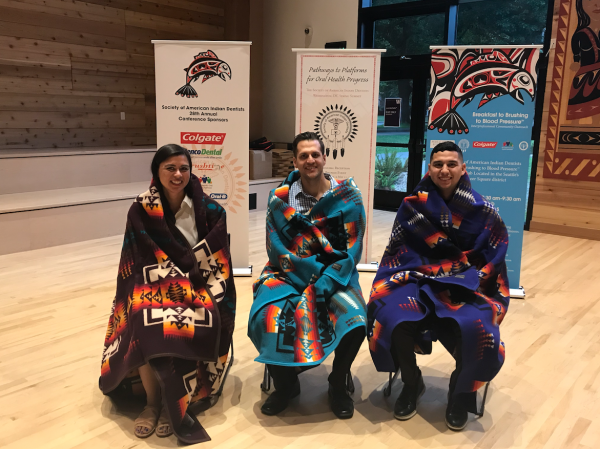 Graduates from A.T. Still University's Arizona School of Dentistry & Oral Health (ATSU-ASDOH) were honored last month with a blanketing ceremony at the 28th annual conference of the Society of American Indian Dentists (SAID).
"The blanketing ritual is a ceremony to express honor and achievement," says George Blue Spruce, DDS, MPH, assistant dean of American Indian affairs. "It is performed throughout American Indian tribes and organizations."
Sarah Hill, DMD, '18; Reggie Crowe, DMD, '18; and Francisco Mascarenas, DMD, '18 received blankets at the ceremony. Dr. Hill is Sioux Klamath Modoc, Dr. Crowe is Seneca Cayuga Osage, and Dr. Mascarenas is Yacqui. The blankets and designs vary between tribes, but they symbolize gratitude and respect for the recipients' achievements.
"Traditionally, a blanketing ceremony demonstrates great honor and admiration for someone," says Dr. Crowe. "To be honored by SAID is something I will remember for the rest of my life."
SAID is a national nonprofit organization dedicated to improving the oral health of American Indian and Alaskan Native communities and advocating for dentists with tribal heritage.