ATSU-ASDOH faculty, students provide dental care through partnership with Maricopa County
Posted: February 13, 2023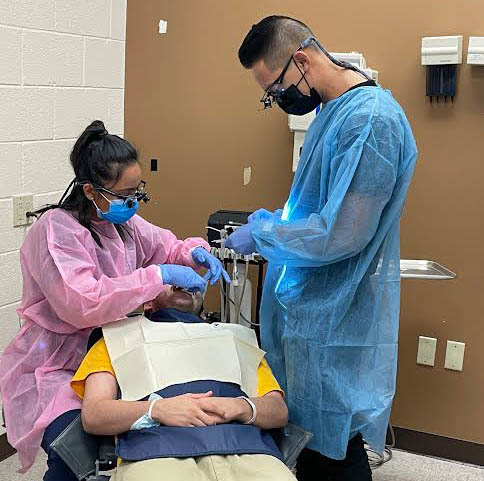 ATSU-ASDOH students perform dental care at an Arizona detention facility. This partnership, known as Smiles of Hope, is similar to the work done at the MRC. Smiles of Hope was selected as a 2021 Arizona Judicial Branch Strategic Agenda Award winner in the category of Protecting Children, Families, and Communities.
A partnership between A.T. Still University-Arizona School of Dentistry & Oral Health (ATSU-ASDOH) and the Maricopa Reentry Center (MRC) is helping recently incarcerated men get the dental care they need while helping them feel trusted, respected, and heard.
"Often, teeth tend to be the last thing that we worry about, and I get it because there are so many other needs that need to be met before we focus on our teeth," Dr. Howell said.
This program began as an extension of a partnership between ATSU-Arizona School of Health Sciences (ATSU-ASHS) and the MRC, and was established in 2018 by Rebecca Wolf, JD, MPH, OTR/L, associate professor and chair of the occupational therapy department.
In this original partnership, Doctor of Occupational Therapy (OTD) program students have the ability to complete their capstone project at MRC, while second-year Master of Science in Occupational Therapy (MSOT) and OTD program students teach an eight-week health promotion class to residents at MRC.
Eventually, the partnership was expanded to include ATSU-ASDOH with the help of Scott Howell, DMD, MPH, associate professor and director of public health dentistry and teledentistry. Dr. Howell meets with individuals in MRC over Zoom and assesses their dental care needs before developing a treatment plan with dental students and dental residents.
Many individuals at MRC have extensive dental and oral health needs, and this partnership gives them access to emergency care provided by ATSU-ASDOH students and residents.
MRC is run by the Arizona Department of Corrections, and was established to help facilitate the successful reintegration of offenders into their communities following incarceration.
Located in Phoenix, the facility houses men recently released from prison for up to 90 days, where they have access to critical programs and services to assist them in completing their period of community supervision.
Individuals in MRC have access to resources, including substance abuse treatment, cognitive restructuring classes, assistance in finding employment, life skills classes, and temporary housing for released individuals who have not yet secured permanent housing and would otherwise be homeless.
"The facility is trying to help these gentlemen understand the resources available to them. They're not spoon-feeding them, they're not just giving them everything they need, but they're connecting them with resources and how to access them," Dr. Howell said.
"A lot of the guys I've worked with are coming out of prison after a decade or more, and they're coming back into a community they don't even recognize," he added.
This program serves not only as a way to help promote the University's mission of serving the underserved, but also gives dental students and residents a unique opportunity to work with populations which they otherwise may not have been exposed.
For many students, this may be the first time they have worked with individuals who have been through the prison system. The partnership helps encourage students to challenge their biases about people who have been incarcerated, Dr. Howell said.
"Let's talk about the challenges that this population is going to face either while they're detained or after their detention. Working with this population allows us to have pretty unique conversations around the social determinants of health, and the barriers that get in the way of patients seeking care," he said.
The aim of this partnership is not just to help individuals with their dental needs, but also to help them feel respected while receiving care.
"I've heard stories of patients walking into practices with Medicaid, and the front office makes them feel like a second class citizen because they have government insurance," he said.
Dr. Howell explained there can be bias within the dental field that prevents patients from receiving the care they need, even when they have the means to afford it. Helping close the gap in access to dental care is not just about ensuring there are enough dental clinics, but it also requires helping every person feel valued.
"There's this big misconception that if you just open a dental clinic, people will show up. That's not the case at all. People show up to dental clinics because they feel trusted and heard. If you're going to serve the underserved, you have to understand the community and you have to spend time with the community," Dr. Howell said.
ATSU-ASDOH and the Maricopa County Judicial Branch of Arizona Juvenile Probation Department also have a separate partnership in which they provide dental care for youth in juvenile detention facilities.
This partnership, known as Smiles of Hope, was selected as a 2021 Arizona Judicial Branch Strategic Agenda Award winner in the category of Protecting Children, Families, and Communities.