ATSU-ASDOH class president making history for family, University
Posted: November 22, 2021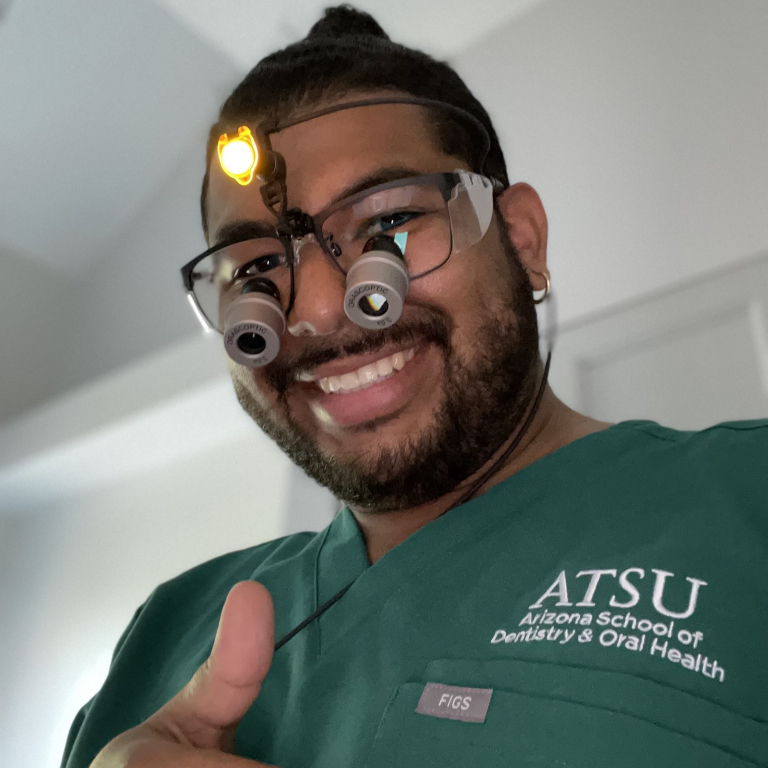 Dimitri Mahee, D1, poses for a photo during an ATSU-ASDOH lab. Earlier this semester, Mahee became the first person of American Indian and African American descent to be elected ATSU-ASDOH class president.
As an undergraduate student in Tahlequah, Oklahoma, Dimitri Mahee took a personality test. Some of what it told him he already knew. Mahee was identified as a "peacemaker," an attribute he picked up along the way from his grandmother. Under careers, it suggested he become a game ranger. For someone who grew up in the outdoors, it matched his interests, but it wasn't what Mahee wanted to do with his life.
Another career option noted by the test was dentistry. Mahee was intrigued. His father had suggested he pursue the career several years earlier and he'd kept it in the back of his mind, but the road seemed daunting. Mahee was already trying to become the first member of his family to graduate from college. Becoming a dentist? That might be a bit of a reach.
Mahee kept that test result, though, as a reminder of what could be possible. There were other subtle signs along the way that gave him a push, his interest grew into a passion, and in 2015 he applied to dental schools across the country. One by one, they responded with rejection.
"I just had to tell myself to keep going," Mahee said.
Mahee, married and a father of two, is now a first-year student at A.T. Still University's Arizona School of Dentistry & Oral Health (ATSU-ASDOH). And that's not all. Earlier this semester, Mahee was elected president of ATSU-ASDOH's class of 2025, becoming the first person of American Indian and African American descent to ascend to that position in the School's history.
"I shouldn't have made it here to this point," Mahee said, "but God has sustained me, and I'm here. I'm blessed and ready to go do what I need to do in this lifetime to help others."
Mahee, D1, grew up in Muskogee, Oklahoma, and is a member of the Muscogee Creek Nation tribe. That heritage was the foundation of his upbringing and shaped much of Mahee's life.
"My tribe has always been my backbone, culturally," Mahee said. "Native Americans have their language, their food, all of the different stories. That's the reason I have my 'man bun,' my long hair, because we take pride in our Native culture.
"Some of the leaders would reach out to me and say they are proud of me. Having those people in my life, just to be able to motivate and surround me, I know they are praying for me and my family. In the Native culture, we talk a lot about the elders. They are praying for me as well. All of the ancestors and elders, they are always with me. I can just feel it. It's a very beautiful thing."
Mahee has had other guiding figures in his life as he pursued his dream of dental school. During his first application process, he contacted Clinton Normore, MBA, ATSU's vice president for diversity & inclusion. Nomore, along with George Blue Spruce, DDS, MPH, ATSU-ASDOH assistant dean, American Indian Affairs; and former ATSU-Missouri School of Dentistry & Oral Health Dean Christopher Halliday, DDS, MPH; and others continued to mentor Mahee as he worked toward applying again for the 2021-22 academic year. 
Those relationships were critically important, Mahee said, as he continued on a path no one in his family had gone down before.
"Mentorship is a huge thing," Mahee said. "I couldn't have gotten here without mentors in my life, and it took a lot of them. Clinton coached me. And I'm so thankful for Dr. Blue Spruce. He has been a great mentor to me. Any time I need him, he's there, through it all."
In the middle of the COVID-19 pandemic, Mahee continued to prepare himself to apply, studying for the Dental Admission Test (DAT) scheduled for July 2020. But like most things that year, the pandemic forced a change of plans, delaying the test.
Meanwhile, Mahee applied, was interviewed, and earned conditional acceptance to ATSU-ASDOH – the condition being he receive at least a certain score on the DAT. He moved to Mesa, Arizona, "on faith," he said, took the test, and beat the score. He was in.
"Thank God," Mahee said. "This is my dream."
ATSU was also a natural fit. The University's mission struck a chord with Mahee, who grew up in an underserved community and saw firsthand the importance of accessibility to quality and affordable healthcare providers.
"It's a huge accomplishment to get into a school that puts that in their mission statement," Mahee said.
Mahee is motivated, a trait apparent to his fellow students. Soon after the semester began, several began suggesting he run for class president. Mahee reflected on his experiences as a young adult leader in church and, knowing he had something to offer, he entered the race.
Candidates delivered presentations, voting took place over two days, and on Friday, Aug. 20, 2021, Mahee was declared the winner. Only afterward did he learn of his election's historic nature as the first American Indian/African American student in ATSU-ASDOH history to become class president.
"It was kind of overwhelming at first, in a good way," Mahee said. "I thought somebody before me would have already blazed the trail, if you will, but it's really awesome and I'm just glad to be in the position I'm in, to help bridge the understanding between administration and the class of 2025."
Normore said the election was yet another step in Mahee completing his journey.
"Clearly, being the first has some historic value that is not without pause, given the fact we are in the 21st century and still realizing firsts like these," Normore said. "However, Dimitri's election is affirmation that his ATSU-ASDOH peers appreciate and respect his leadership and collaborative approach to building community.
"Dimitri's selection supports the idea that opportunities should not be constrained by zip code, race, ethnicity, gender, sexual orientation, class, or any other characteristic that has been historically marginalized. It also means ATSU is transforming its environment so that celebratory opportunities like his election are possible. Most importantly, it means that a young man beat the odds to realize his dream and is on his way toward completing that journey."
He's already looking to help others on their journeys, too. In addition to his roles in the Society of American Indian Dentists and Arizona Student Dental Association, Mahee is a member of the Pre-Admissions Workshop, or "PAW," part of ATSU's National Center for American Indian Health Professions. PAW's goal is to help American Indian and Alaska Native students navigate the path to health sciences schools and the healthcare workforce, ultimately addressing the healthcare disparities facing American Indian and Alaska Native populations. 
"It's part of my life's mission to help people who have been in my shoes," Mahee said.
Mahee is scheduled to complete his degree in May 2025, and as a recipient of a scholarship through the Indian Health Service (IHS) he will then be placed in an IHS facility or hospital to serve four years.
From there, Mahee wants to eventually have his own practice, but as is his nature, it's not to personally enrich himself.
"I want to be able to have funds or finances to go on mission trips," he said. "I love humanitarian dentistry, and to be able to serve an underserved community, whether that is in the U.S. or abroad. I want to be able to provide a level of care and restore the smiles of, hopefully, tens of thousands of people, and bring back positivity. There are a lot of statistics out there about smiling, and how that's so contagious, and brings positive vibes to that person's life."
Lofty goals? Perhaps, but certainly not out of Mahee's reach. Not with his personality, his drive, his tenacity.
Mahee has stuck to a simple script to get to this point. It has served him well, and there's no reason to expect that to change now.
"You have to tell yourself it's a test, it's a trial. There's going to be bumps, bruises, scrapes, that you're going through. That's why it's called 'life.' You're trying to get where you're trying to go, and there are going to be obstacles that come up. You just have to hurdle them. You can't avoid them all, but you can get past them," Mahee said.
"There's one word I keep in the forefront: persistence. I'm not a rocket scientist. I'm not the smartest person in the world by any means, but I know persistence. I've looked at a lot of successful people, whether it's someone in my family, or someone else with a lot of success in their career, and the underlying factor is persistence. I'll always tell pre-dental students or anyone trying to get into school for healthcare fields, be persistent. If this is what you want to do, don't make a plan 'B' or a plan 'Z,' this is your plan. Stick with it. It's going to happen for you."