ATSU and Corbin's Legacy host back-to-school health fair for children in need
Posted: September 27, 2018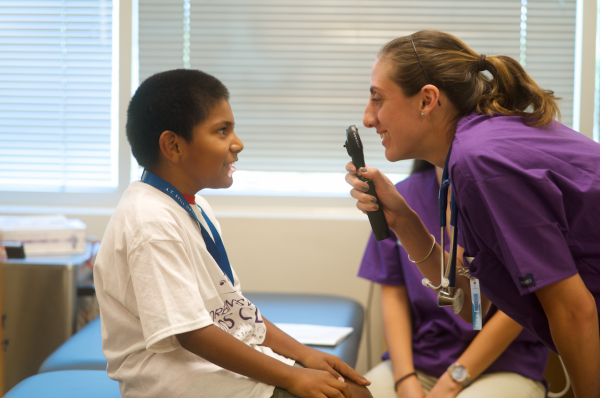 On Tuesday, Sept. 25 A.T. Still University (ATSU) hosted approximately 300 children from local Title I schools for the second annual Corbin's Legacy Back to School Health Fair. Children received free health, hearing, vision, and dental screenings, provided by ATSU students and faculty. The event was hosted in partnership with local nonprofit organization, Corbin's Legacy.
Third- through fifth-graders from Mesa Public Schools were bused to the University's Mesa campus. During the event, children rotated through stations, including various health screenings, as well as fun activities like bowling and hopscotch. ATSU physical therapy students taught children how to properly carry a backpack. Each child received a backpack full of school supplies and a grocery gift card. Corbin's Legacy provided hot lunches.
Many children who attended the event are uninsured or underinsured, and would not otherwise have access to critical health screenings. By addressing this basic need, ATSU and Corbin's Legacy are preparing children for success, in and out of the classroom.
"It was an awe-inspiring event and all-hands-on-deck for Corbin's Legacy volunteers, ATSU faculty and students, and Mesa Public Schools educators," says Joan Leafman, PhD, adjunct professor at ATSU-CGHS and executive director of Corbin's Legacy. "If measured in smiles, it earned an A+."