ATSA community outreach and service
Posted: June 21, 2018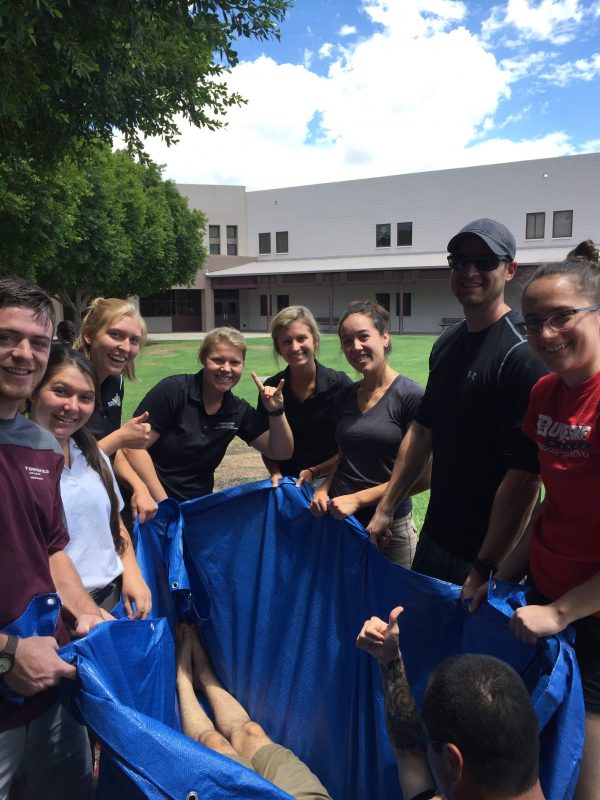 This year, the Athletic Training Student Association (ATSA) had the opportunity to help several organizations and families over the holidays. First, we participated in a canned food drive at the food pantry at Vineyard Community Church in Gilbert. ATSA was able help collect and organize food items for the food pantry. We also helped box and distribute food boxes to those in need at the church. We were able to help many people from the area, from youth to older adults. We also participated in the Christmas angels at the church. ATSA picked 20 tags from their Christmas tree and purchased the requested toys for those 20 kids.
The second event we helped with was LOVE IS IN THE BAG, which is a community project that donates bags full of love to those who need it the most. Love bags are filled with basic needs, fun activities, and snacks. This community project is about helping those who need it, teaching children to give back and have a heart. We were able to help participate and collect 100 toothbrushes to be added to the love bags for school-aged children in foster homes.
Athletic training students provided the medical coverage for the Park 2 Park 5K in Phoenix. Students were stationed throughout the course and at the finish line to provide service to the race participants as needed. Students were able to serve their community and help educate other volunteers on the field of athletic training.
Once again, ATSA continued their partnership with the American Red Cross as the official organizer for regular blood drives on ATSU's Mesa campus. Every other month, the mobile donation center comes to ATSU's campus to collect blood donations. Members of the community, in addition to ATSU's faculty, staff, and students are encouraged to sign up and support American Red Cross's life-saving mission. In the past year, blood drives at ATSU have collected over 150 donations.