Alumni and students meet at AudiologyNOW! convention
Posted: April 25, 2016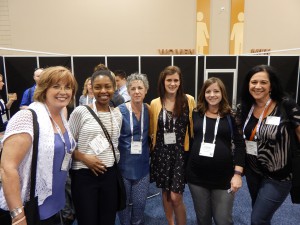 Audiology alumni, students, and faculty met April 13 in Phoenix, Ariz., during the 2016 AudiologyNOW! convention. The following  is a summary of the updates shared by ATSU-ASHS Vice Dean Ann Lee Burch, Audiology Department Chair Tabitha Parent Buck, and ATSU-ASHS Alumni Board member Brenda Lowe, '09:
The Arizona School of Health Sciences continues to stay at the forefront of health professions education with an increasing number of residential and online programs for several disciplines and more than 200 research projects completed by faculty this past year.
Final applications for the online transitional AuD program are due June 30, 2016 – if you have any colleagues still interested in pursuing this degree, please encourage them to find out more and apply online.
The Falls Prevention Outreach program has continued to grow, and there are more opportunities for our students and alumni to become trained in A Matter of Balance. For those in the Phoenix area, we are offering free training on May 20-21, but seats are limited. For more information, please contact Elton Bordenave.
The ASHS Alumni Board was excited to present Gregory Frazer, AuD, '00 with the Distinguished Service Award for his tireless efforts for the future of audiology. Not only has he served as faculty and preceptor for students all around the country, he founded the Audiology Network in order to educate the public and medical profession about audiologists and audiology services. Congratulations, Dr. Frazer!
Please take a look at our Facebook page for more photos.