A.T. Still University Osteopathic Medicine Center Arizona extends hours, welcomes new doctor
Posted: February 1, 2018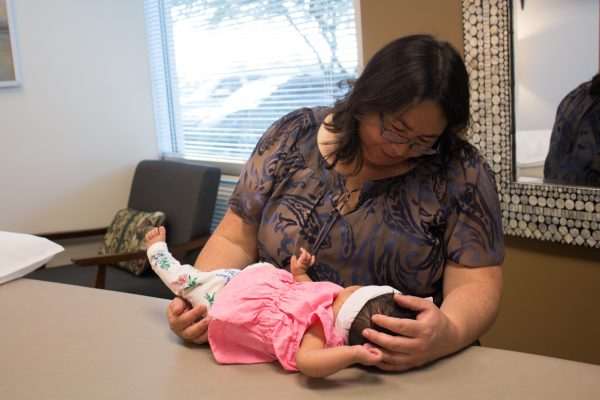 Bonnie Wong, DO, '12, recently joined the team at A.T. Still University Osteopathic Medicine Center Arizona. She is a graduate of A.T. Still University's School of Osteopathic Medicine in Arizona (ATSU-SOMA) with extensive experience providing osteopathic manipulative treatment (OMT).
Dr. Wong is a passionate proponent of osteopathic techniques, due in part to her own experience receiving OMT. For 30 years, she suffered chronic sinus infections. After just one visit to an osteopathic physician, she says her sinus issues were resolved and never returned. The results were similar to what she would have expected from sinus surgery, without the risks or discomfort.
"Just one treatment from a skilled osteopathic physician helped to resolve what years of antibiotics couldn't do," she says. "I love to observe how osteopathy not only treats musculoskeletal issues and chronic pain, but also infectious disease, concussions, fatigue, and many other conditions."
Dr. Wong is a board-certified family practice physician, and loves to treat patients of all ages with a wide range of conditions. She delivered many babies during her residency training, and has focused on treatment of pregnancy, birth, and pediatrics. As an osteopathic fellow working with obstetricians, she turned breach babies using a very gentle osteopathic approach, allowing mothers to give birth naturally, rather than by cesarean section.
"The key to effectively treating patients with osteopathy lies in understanding the cause of the problem, whether it's anatomical, physiological, psychological, or lifestyle-related," says Dr. Wong. "I became inspired to work as an osteopathic family physician when I saw the power of osteopathy to help the body heal itself."
In addition to providing exceptional patient care, Dr. Wong looks forward to participating in research projects, alongside University faculty.
Now that Dr. Wong has joined the team, the center is open full time. The new hours are Monday-Friday from 8:00 a.m. to 5:00 p.m. It is closed daily from noon to 1:00 p.m. for lunch. Call 480.248.8198, or email ommcenter@atsu.edu to make an appointment.