66th KCOM grad set to take AOA's helm
Posted: January 25, 2011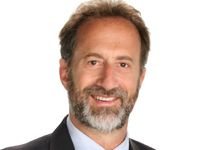 Drs. Levine will become first father-son AOA presidents
ATSU Board Member Martin S. Levine, D.O., M.P.H., FACOFP, KCOM '80, SHM '03, an AOA board-certified family physician, was elected president-elect of the American Osteopathic Association (AOA) during its annual business meeting in Chicago.
Dr. Levine has deep roots in the osteopathic medical profession as one of 20 osteopathic physicians in his family. His term as president-elect puts him in line to follow in the footsteps of his father, Howard M. Levine, D.O., '54, who served as president of the AOA from 1997-98. The 115th AOA president, Dr. Martin Levine will be the 66th KCOM graduate to serve in that capacity.
"It is truly an honor to be selected for this opportunity to help lead the osteopathic medical profession as our nation begins to implement the policies set forth in the historic healthcare reform legislation passed earlier this year," Dr. Levine says.
A fellow of the American College of Osteopathic Family Physicians, Dr. Levine operates a family practice in Bayonne, N.J., and Jersey City, N.J., and serves as associate dean for educational development at Touro College of Osteopathic Medicine in the Harlem neighborhood of New York City. Dr. Levine also serves as discipline chief of family medicine and clinical associate professor at Seton Hall University School of Health and Medical Sciences Clinical Training Center at St. Michael's Hospital in Newark, N.J.
Dr. Levine has served on the AOA's Board of Trustees since 2000. In addition to his role on the board, he has served the AOA in a number of capacities, including chair of the Department of Affiliate Relations and the Department of Professional Affairs, as well as chair of the Bureau of Clinical Education and Research.
Dr. Levine is past president of the New Jersey Association of Osteopathic Physicians and Surgeons (NJAOPS). He also served on numerous committees for the American College of Osteopathic Family Physicians and the American Academy of Osteopathy.
Dr. Levine has been the recipient of many honors and awards, including being named in the Best Doctor listing by New York magazine every year since 1999, and being honored as a Best Doctor in New Jersey Monthly magazine's listing three times. He also was named Physician of the Year by NJAOPS.
Dr. Levine and his wife, Andrea, have two sons, Jacob and Aaron, and a daughter and son-in-law, Alena and Ed Bloom.
Q & A with the president-elect
Q. What are your goals for your term as AOA president?
A. Get the profession the attention it deserves from the government, medical profession, and public.
Q. Your father served from 1997-98. What has been his influence on your life and career?
A. Both my father and grandfather (David Steinbaum, D.O., KCOS '30) had a tremendous influence on who I am and what I do. They were role models for the family. The respect their patients, other physicians, and community had for them was obvious.
Q. Are the challenges you face today much different than those of your father? If so, in what way?
A. The challenges for better healthcare are always changing because the bar is set higher with innovations in medicine and information at our fingertips. As physicians, we need to keep pace.
Q. What's the secret to balancing so many roles; what gets you through the day?
A. Everything is important to someone in some way, and keeping that in mind makes me realize the importance of the different work I am involved in, whether direct or indirect patient care or teaching.
Q. What's your favorite memory of your time at KCOM?
A. The camaraderie with my fellow students. Without studying in groups it would have been much more difficult.
Q. What do you hope will be your legacy?
A. My father always said, "Make sure whatever you do, it has legs on which it can carry itself on without you." I hope to instill a sense of duty in each D.O. to "Live each day as an example of what an osteopathic physician should be" (from the Osteopathic Pledge of Commitment).