2022 TLC Innovation in Teaching for Learning Award Winners
Posted: February 14, 2023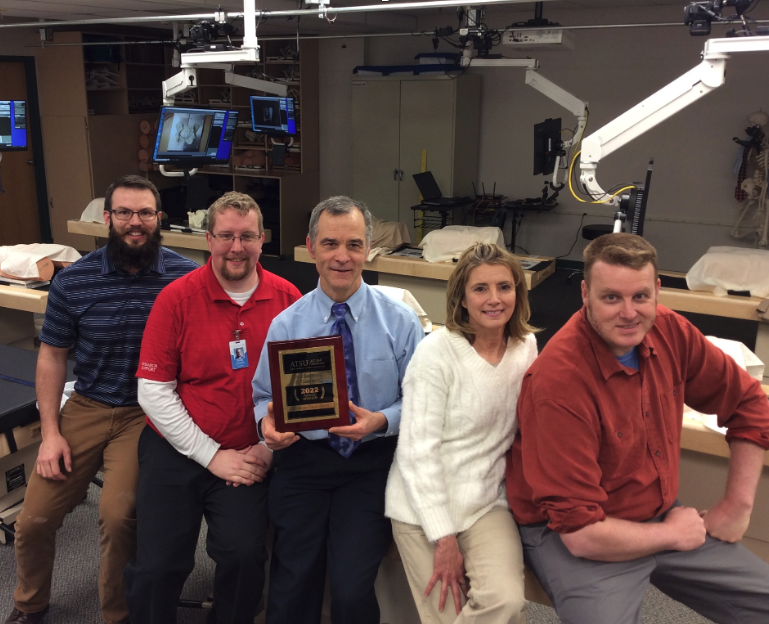 2022 Innovation in Teaching for Learning Award winner Dr. Degenhardt with his team. From left to right: Zane Starks, MS, Corey Luebbering, MPH, Brian Degenhardt, DO, Lisa Norman, BS, PMP, and Steve Webb, BS, CDAP.
A.T. Still University's (ATSU) Teaching & Learning Center (TLC) hosted the annual Innovation in Teaching for Learning Award ceremony on Wednesday, Nov. 16, 2022, where University faculty were honored for their implementation of innovative and transferable ideas in their teaching.
"We hope that this award helps produce new knowledge about evidence based teaching practices that our students benefit from. At the same time, the aim is to strengthen and inspire our collective teaching expertise at ATSU in a real way," said Quincy Conley, PhD, TLC director.
"We want to celebrate our successes. You all work incredibly hard at developing your craft and providing the best possible experiences for your students. We see you and we want to celebrate your efforts," he added.

2022's Innovation in Teaching for Learning Award winner was Brian Degenhardt, DO, director, A.T. Still Research Institute (ATSRI), and associate professor, ATSU-Kirksville College of Osteopathic Medicine (ATSU-KCOM), for his project, "System Providing Objective Feedback for Calibration of Palpation Skills."
The first runner-up was David Doubblestein, PT, PhD, CLT, Cert MDT, LLCC, assistant professor of physical therapy, ATSU-Arizona School of Health Sciences (ATSU-ASHS), for his project, "Mobile-Office Hours."
The second runner-up was Carrie Robinson, PT, DPT, OCS, assistant professor of physical therapy, ATSU-ASHS, for her project, "Progressive Clinical Cases Based on Student Decisions."