2013-14 SOLO Awards
Posted: May 9, 2014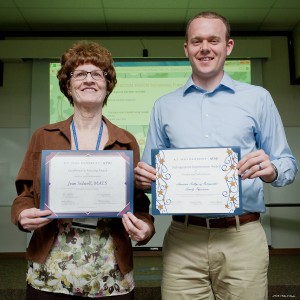 Jean Sidwell with Ben Crary
The spring Student Organization Leadership Orientation awards ceremony was held at A.T. Still University's Kirksville College of Osteopathic Medicine on May 6, 2014.
Ben Crary, OMS II, accepted the 2013-14 Distinguished Award for Service and Performance on behalf of the American College of Osteopathic Family Physicians (ACOFP) organization. ACOFP was awarded for exemplifying the highest level of commitment to serving the organization, University, and Kirksville, Missouri community. In honor of ACOFP, a $150 donation was given to the United Way of Adair County.
Jean Sidwell, MALS, library branch director, received the 2013-14 Excellence in Advising Award. Sidwell advises the American College of Osteopathic Pediatricians student organization.