Winnerfest benefits injured student, food pantry
Posted: January 14, 2014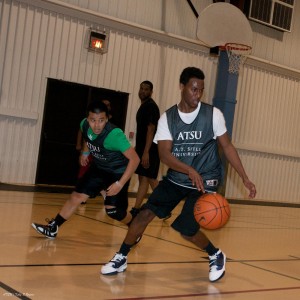 The Winnerfest Multi-Sports Tournament was held January 10-11, 2013 at the Thompson Campus Center on the Missouri campus. The event was a fundraiser for Emily Ryan-Michailidis, OMS II, who was injured during a Founder's Day powderpuff football practice, and also The Food Bank for Central and Northeast Missouri.
The first night featured family fun activities including kids games, mini sports competitions, and a hot dog eating contest. The tournament continued the next day with racquetball, dodgeball, soccer, basketball, and volleyball.
Winnerfest was sponsored by the Biomedical Sciences Club and Sports Medicine Club.