Unmasking communication
Posted: September 23, 2020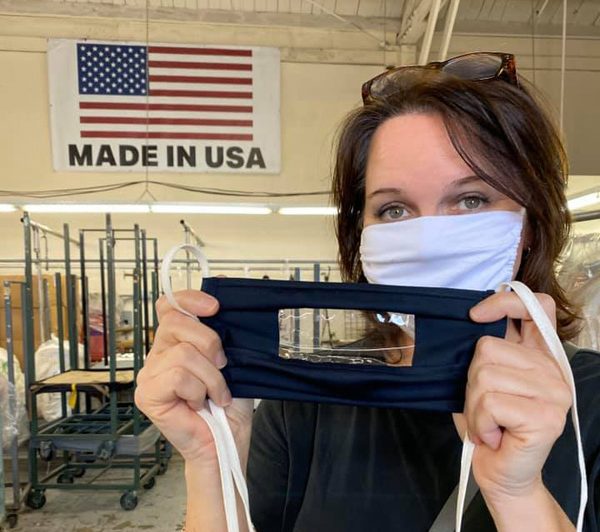 Dr. Loren Lunsford displays one of her newly created facemasks with clear vinyl at the mouth.
Loren Lunsford, AuD, '09, knew there would be a problem almost immediately. As the COVID-19 pandemic progressed across the country and experts urged the public to wear masks to protect themselves, Dr. Lunsford was focused on impacts to her patients.
Dr. Lunsford co-owns 32 Sonus Hearing Care Professionals locations, many located in southern California, and The Hearing Spot online store. Her business serves people with a wide range of hearing-impairment problems.
Masks weren't going to cover anyone's ears, but they were blocking mouths. That caused new issues for many who rely on associating lip movements with voices to better understand what's being said.
Dr. Lunsford and her staff got to work, first enlisting a local contact to make a handful of masks with clear vinyl at the mouth. They needed more and found a local manufacturer who could make 300. After getting these masks to patients, Dr. Lunsford shared the concept in an audiology Facebook group and said she had 140 masks remaining. They were sold within an hour.
It was only the beginning. Since April 30, Dr. Lunsford's business has sold more than 12,000 masks. Requests are coming from schools, governments, and more, leading her to seek new manufacturers to increase capacity.
The project has been a boon to her business, which had seen patient volume decrease dramatically during the pandemic. It also boosted local manufacturing, which early in the pandemic could only conduct business if creating personal protective equipment.
"It's a really cool, feel-good story," Dr. Lunsford said. "Very serendipitous for us, because we're helping a lot of people in the process."