The sweet spot
Posted: December 7, 2017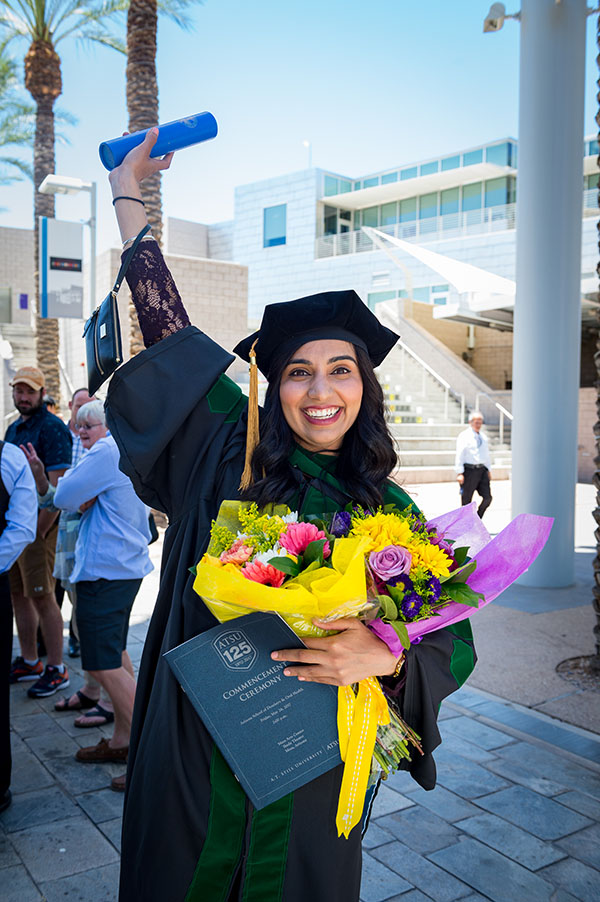 Adorned with academic regalia and flowers, Sharan Kaur, DO, '17, proudly leaves ATSU-SOMA with diploma in hand.
ATSU-SOMA graduates 103 new doctors
ATSU-SOMA celebrated the class of 2017 at its commencement ceremony on Friday, May 26. Families and friends packed the Mesa Arts Center to see 103 graduates receive their DO degrees. Nine graduates also earned their MPH degrees. Sister Adele O'Sullivan, MD, a board-certified family physician, delivered an inspirational keynote speech about her experience in caring for the homeless. She described her journey of becoming a doctor for the underserved at a clinic in downtown Phoenix.
"I went to take that job, in that rundown old building, taking care of whoever was  waiting outside the door in the morning and going out to the ones that wouldn't come to me," says Dr. O'Sullivan. "It was where I found the synergy between the practice of medicine and myself – the sweet spot."