The strength to be champions: ATSU alumni power their teams to victory
Posted: September 22, 2021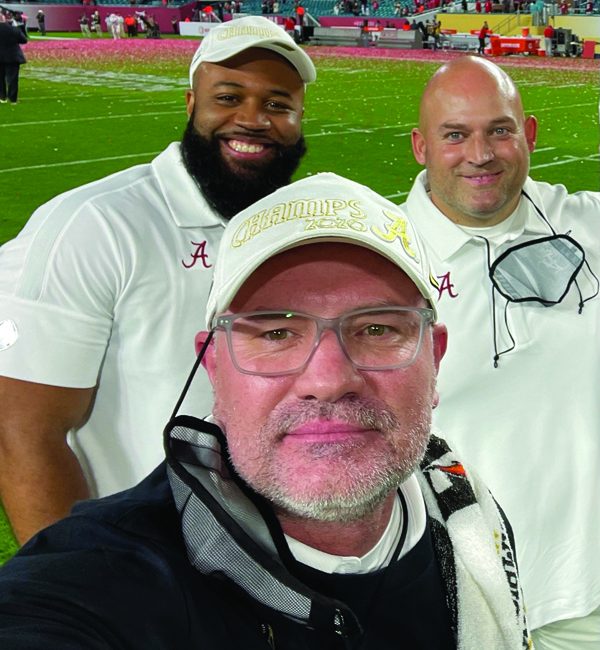 From left, Paul Constantine, Dr. Matt Rhea, and David Ballou take a selfie after Alabama football's win in the 2020 NCAA football national championship game.
2020 tested sports in ways never before imagined. ATSU alumni made certain their teams were up to the challenge.
Zeroes filled the scoreboard in Walt Disney World, and the Los Angeles Lakers were 2020 NBA champions.
Two weeks later, a 97-mph fastball from Julio Urías blinked past Willy Adames, and the Los Angeles Dodgers won the 2020 World Series.
And a little more than two months after that, with one final kneel down to run out the clock, the Alabama Crimson Tide captured the 2020 NCAA Football national championship.
Three teams in three different sports, climbing to the tops of their respective mountains during seasons in which they had to combat COVID-19 while conquering their competition.
Three teams in three different sports, delivering supreme athletic performances under the brightest of lights.
Three teams in three different sports, all powered by A.T. Still University.
While television cameras followed LeBron James' celebration, ATSU-ASHS alumna Nina Hsieh, MS, ATC, CSCS, CES, '03, held the Larry O'Brien Trophy tightly. In 2019, Hsieh was the first woman to become a head athletic trainer of an NBA team. The next year, she became the first woman head athletic trainer to win a championship in any major American professional sport.
"I watched basketball growing up and since you were a child you've seen that trophy and seen it being held, and never did you think it would happen to you," she said. "It's amazing."
As on-field celebrations waned, Brandon McDaniel, MS, '10, and Thomas Albert, DPT, '04, found themselves on the pitcher's mound at Globe Life Field in Arlington, Texas, surrounded by their families and hoisting Major League Baseball's top prize. Both Iowa natives and ATSU-ASHS alumni, McDaniel, a strength and conditioning coach, and Dr. Albert, assistant athletic trainer, have each been with the Dodgers for several promising seasons in which they came up short.
"It was awesome, finally, to get it done," Dr. Albert said.
With crimson and white confetti raining at Hard Rock Stadium in Miami Gardens, Florida, Matt Rhea, PhD; Paul Constantine, MS, '21; and David Ballou, MS, '09, soaked in the scene. Dr. Rhea, Alabama football's director of sports science, is an ATSU-CGHS professor of kinesiology who came to ATSU in 2006 to develop the online master's program, then under ATSU-ASHS. Ballou, the Tide's director of sports performance and one of the program's first graduates, recruited Dr. Rhea to work with him at IMG Academy in Florida and later at Indiana University, where they met Constantine, an assistant strength and conditioning coach. Constantine then enrolled in ATSU-CGHS to pursue his master's, and when Alabama football coach Nick Saban came calling in early 2020, the trio headed south to Tuscaloosa. Now, they had become champions.
"It was surreal," Constantine said.
Dr. Rhea was on faculty at Southern Utah University when he saw ATSU-ASHS was seeking someone to develop an online master's program in kinesiology. Attracted by the University's forward thinking, he pursued the position and led the department for four years before stepping into a faculty role, which allowed him to explore consulting opportunities.
"I have to express gratitude to ATSU President Dr. Craig Phelps and ATSU-CGHS Dean Dr. Don Altman and the willingness on the part of the University to let me get out and connect with our students like that, to work from different places and in different capacities," Dr. Rhea said.
It wasn't until Ballou spoke to him about designing and launching a sports science program at IMG Academy when his consulting work took him onsite. The program's success and strong working relationship he developed with Ballou later led them to Indiana's football program, and their reputation grew in college football, all the way to Saban's office.
Ballou works with athletes in the weight room and on their conditioning, while Dr. Rhea's role involves data collection, assessments, and data projections to develop evidence-based practices. The entire system focuses on power, rather than just getting players to be bigger and stronger.
Constantine began his career as strength and conditioning intern at Baylor University, supplementing his income with a part-time job at a barbecue joint and earning the nickname "Coach Brisket." In 2013, he took a position as head strength and conditioning coach at Houston Baptist University, and seeking to further his experience, took a job at Indiana in 2016. Ballou and Dr. Rhea arrived two years later, and Constantine quickly became a valued staffer with a deep understanding of their system.
"The system we run requires a much higher level of strength coach, a higher skill set," Dr. Rhea said. "That's where the education piece is very helpful. Paul was seeking that education and had become very knowledgeable in our system and familiar with the way we were operating. ATSU's program has served him well."
They started work at Alabama in early March 2020, just days before the pandemic brought the world to a halt. Fortunately, they were pivoting to an area in which they had great expertise – distance learning.
"People who had no idea what Zoom was were frantically trying to figure out how to communicate and have meetings," Dr. Rhea said. "I had been doing it for 10 years. I believe we were far more effective working with our athletes, because we went into online professor mode."
Student-athletes returned to campus in June, and Constantine continued putting into practice what he was learning through his studies. Pursuing dual certificates in sports conditioning and corrective exercise & orthopedic rehabilitation, he was gaining renewed knowledge in how the body works, moves, and trains, and immediately applying it in a high-performance model.
"It's helped me, especially working with athletic trainers, being able to speak their lingo," Constantine said. "I know my role and they know their role, and we also know sometimes there is a little gray area. We both know what we're capable of doing and function well within our roles."
The Crimson Tide entered the 2020 season ranked No. 3 nationally and two seasons removed from their last championship. Navigating those expectations was nothing compared to challenges brought by the pandemic.
"The biggest challenge we faced was the uncertainty," Dr. Rhea said. "We have a system built on different progressions, and those are important, but you never knew what athletes would be able to show up and train with you on any given day. We didn't even know what coaches would be able to be there.
"I have to give credit to our healthcare people for getting protocols in place that at times were very challenging and restrictive, but also gave us a chance to do this safely and effectively."
Originally from Burlington, Iowa, Dr. Albert triple majored at Upper Iowa University before deciding an advanced degree in physical therapy was his next step. ATSU's program – and Mesa, Arizona's warm climate – appealed to him.
"My first semester at ATSU, I felt like I'd learned almost as much as I did in four years as an undergraduate athletic training major," Dr. Albert said. "That was impressive, the thoroughness of anatomy and physiology right out of the chute."
He met his future wife, Amanda, at ATSU-ASHS and began working his way into professional sports, initially with the Harlem Globetrotters, who were based in Phoenix. He later worked with a company now known as Select Physical Therapy, and, in 2012, was hired as a rehabilitation coordinator with the Cleveland Indians. In 2016, he landed a job with the Dodgers.
McDaniel grew up in Council Bluffs, Iowa, and played college baseball at Wayne State. Wanting a career in baseball, he switched his major to exercise science and earned an internship with the Pittsburgh Pirates in 2007. He enjoyed the job but also found himself in situations where he didn't feel he had the knowledge to be truly proficient. He started researching master's programs when a co-worker, Mubarik Malik, MS, '08, told him about ATSU's nascent online program.
"I could work at my own pace but also, being on the road, I was able to get out and continue to do my job," McDaniel said. "It forced me to get outside the box of things I knew about the field, about fitness. It was more philosophical. It gave me the platform to realize there's more to life than three sets of 10 and running a mile as fast as you can."
After completing his degree and again seeking to advance his knowledge, he latched on with Mark Verstegen at Athletes' Performance, where he worked in the program's military training division for two years. Impressed with the organization, the Dodgers looked to hire strength coaches from the company and, in 2012, McDaniel got a job with their minor league affiliate. He was promoted to the majors later that year.
McDaniel and Dr. Albert were in the middle of spring training when Major League Baseball sent everyone home on March 12, 2020. The performance staff shifted to doing what they could remotely, helping players train and stay ready for when baseball returned in July. That return was far from normal, with COVID-19 protocols governing the number of players who could be in training and weight rooms, and the amount of time staff could spend working with them.
Despite the challenges, Los Angeles got off to a great start and coasted into the postseason as heavy favorites before finding themselves on the verge of elimination in the National League Championship Series. They trailed Game 5 early before rallying to a win, dominated Game 6, and came from behind again in Game 7 to advance to the World Series.
Dr. Albert said the stress of the NLCS comeback made the team feel more at ease in the World Series against Tampa Bay. After splitting the first four games, the Dodgers took the next two for their first championship since 1988.
"We'd tasted failure for seven years in a row, many times as the favorites to win it all," McDaniel said. "It was really gratifying to know how hard it was to do that, most importantly for the players. Watching their reactions, watching them hold that trophy up. That was the most gratifying thing, knowing I've been fortunate enough to walk beside them and maybe help facilitate a little of their career along the way and help put them in a position to win."
For Hsieh, a master's program was always part of her long-term plans, and following her undergraduate degree from California State-Fullerton, a mentor steered her toward ATSU-ASHS.
"I was looking to make sure I was going into a postgraduate program specific to athletic training," she said. "There were schools where I could go and get a master's in kinesiology and do some graduate assistantship in an athletic training room, but I wanted to enhance my skills and education with something specific to athletic training."
Hsieh got a job as an athletic trainer at University of California-Santa Barbara and spent her summers working at Los Angeles Lakers' camps. In 2008, she was hired as an athletic trainer with the Lakers' developmental league affiliate, and in 2016, she was promoted to assistant athletic trainer with the NBA team.
Just three years later, in 2019, she ascended to head athletic trainer of the Lakers, becoming the first woman to do so in the NBA.
"Obviously, it means a lot. It's huge," she said. "I've never wanted to put myself in a category of being a female head athletic trainer, even though you have to look at it that way. For me, it's always been that the job is mine because I am qualified for the job. I don't look at it as being the only one, although there are certain moments when I have to look at it that way, to help the future and all of the females who have dreams of working toward this."
The NBA regular season was three-quarters of the way to its conclusion when the league suspended operations March 11, 2020. Teams returned for a mini training camp in their home cities in July before everyone relocated to Orlando, Florida, for continuation of play in what became known as "the bubble" at Disney World.
Aside from navigating COVID-19 protocols, Hsieh and her staff needed to find ways to ramp up player activity progressively to avoid injuries. Part of finding success comes with developing positive relationships with athletes.
"You've got to have that rapport so the athletes trust you and everything you ask them to do, and they'll do it without any kind of reservation or pushback," Hsieh said. "You ask them to do something and they'll do it because they know you're asking them to do something that's going to better them."
Los Angeles stormed through the playoffs' first three rounds before meeting the Miami Heat in the NBA Finals. An MVP performance by James lifted the franchise to the title in six games, and Hsieh, who grew up watching Laker championships on television, experienced the thrill of helping deliver one.
"If you watch me on TV, you'll never see me show much emotion, because this is my job. It's professionalism," she said. "Once it's over and we had that success, the emotions came out."
Six individuals, spread across three different teams in three different sports, all champions, with roots at ATSU. All have earned great success and are well networked in their professions. For one school to be represented like this in one season, they said, is unprecedented.
"That's incredible," said Hsieh. "I'm obviously a big fan of the ATSU program. It's helped me to get where I'm at and helped a lot of people succeed in life. For this to happen in the same year, with COVID, bringing home titles, that's incredible, and I think it speaks very highly of the school."
In working with their colleagues across the profession, a single school doesn't come to mind in these circles as "the place" connected with championship-level success. Perhaps that's about to change.
"The thing that tied us all together and brought us all together has been ATSU," Dr. Rhea said.