The root of the matter
Posted: August 4, 2017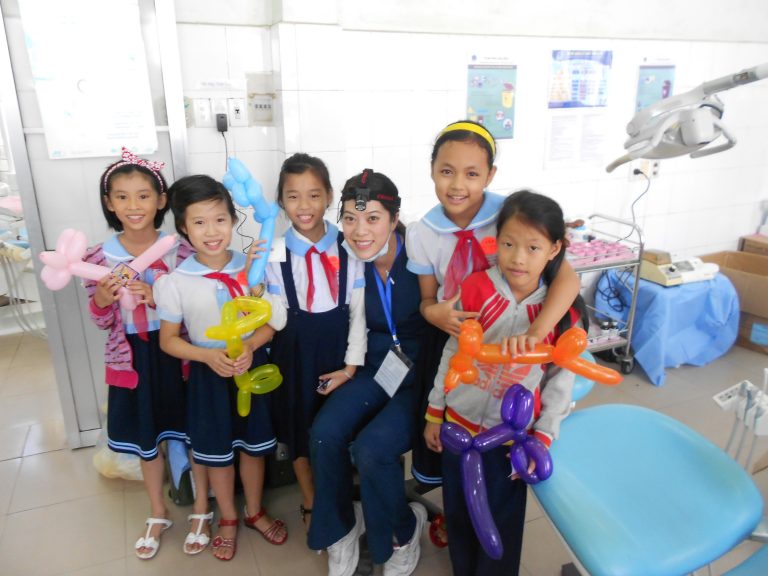 Dr. Duong visits Vietnam in 2014 to provide free dental care to children through Operation Smile.
First-generation U.S. citizen Mai-Ly Duong, DMD, MPH, '12, like many health professionals, pursued dentistry simply to help others. It was her mother, a refugee escaping Vietnam during the Fall of Saigon, who explained why many of her fellow Vietnamese could rarely afford the luxury of dental care.
"Growing up, it was evident the amount of oral health issues that my loved ones faced," Dr. Duong recalls. "They would cover their mouths with their hands and guard their smiles."
Seeing family members struggle with poor oral health, and witnessing their confidence diminish, set Dr. Duong on a trajectory to become a dentist.
"I want to be that person to help someone smile a little more, talk a little more, and feel more comfortable about themselves," she says.
As a dental student at ATSU-ASDOH, Dr. Duong demonstrated her commitment to serving the underserved by participating in the School's annual Day for Special Smiles and Give Kids a Smile outreach events. Working alongside her classmates, she treated at-risk and special needs children by providing oral screenings and free dental services such as extractions, fillings, cleanings, fluoride treatments, and sealants.
Along with the desire to be a compassionate dentist, Dr. Duong entertained the idea of teaching as part of her career goals, but much later down the road. Prior to graduation, her classmates voted her "most likely to return to ATSU-ASDOH to teach in 10 years." That opportunity came much sooner than she anticipated, as she became an assistant professor at ATSU-ASDOH in 2013.
Contributing to the success of future dental professionals hasn't slowed Dr. Duong from her commitment to improving oral health within the community. In 2016, she was the recipient of a $5,000 grant from the Academy of General Dentistry Foundation, which aimed to expand the reach of the annual Oral Cancer Awareness Walk. The funding allowed for four  additional oral cancer screening events to underserved adolescents (ages 12-18) in Phoenix, as well as support for the purchase of screening devices. The effort is designed not only to screen, but also to educate young adults regarding risk factors of oral cancers.
Dr. Duong approaches her work with boundless energy to serve those who are in greatest need, while guiding future dental professionals. At the root of the matter, Dr. Duong's path to become a dental professional and educator can be traced back to her mother, who planted the seed about the importance of an education and giving back to help others.
"Not many people get to wake up every day and know it's going to be a great day," says Dr. Duong. "I do. I get to help people every day. I get to be a dentist."
Image above: Dr. Duong visits Vietnam in 2014 to provide free dental care to children through Operation Smile.