By special invitation
Posted: May 6, 2014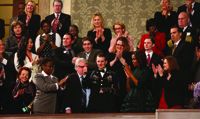 Gilbert, Ariz., resident Amanda Shelley was in the car when her phone rang; there was no identifiable number, so she let the call loop to voicemail. Minutes later, she received an interesting message. The caller claimed to be from the White House, under the directive of the president of the United States.
"I didn't believe the message at first; I was incredulous," Shelley, PA, '05, recounts. "In fact, I called a few of my friends to see if they were playing a prank on me."
After her friends denied having anything to do with the curious call, she realized this could be someone calling from her nation's capital and immediately called the number back.
To her astonishment, a White House speechwriter answered the phone and explained that the president was interested in sharing Shelley's story on her journey to healthcare in his State of the Union address, scheduled for the following week. An independent contractor having pre-existing medical conditions, Shelley struggled to find a health insurance plan that would accept her. In December 2013, Shelley enrolled as a recipient of the Affordable Care Act. After eight months without insurance, Shelley was notified in January that she had been approved under the ACA.
"I can't believe my bad luck with my health could lead to this."
However, just days after she received the good news, she was rushed to the emergency room. Shelley's hospitalization was unforeseen, but she is grateful for the timing in which she received health insurance. Shelley's experiences were shared on National Public Radio and through the power of telecommunication, the White House caught wind of her story.
The other details, outlined by the White House speechwriter, involved Shelley's attendance at the January 28 address, and furthermore, a seat alongside first lady Michelle Obama in the First Lady's Box. "When I was told all of the details, I was shocked. I thought, 'I can't believe my bad luck with my health could lead to this,'" says Shelley.
The day before President Barack Obama was scheduled to give his speech, Shelley flew overnight to Washington, D.C. She attended a dinner with other guests and dignitaries and was escorted by motorcade to the White House for a meet-and-greet with the first lady. More excitement followed, and she was led through security to the First Lady's Box.
"I went to the chair with my name on it, and immediately noticed I was seated just behind Michelle Obama," Shelley recalls. "I could not believe it." After the address, Shelley met President Obama and socialized with other dignitaries.
"It was a memorable experience," Shelley says. "I was honored to represent PAs, but also very honored to represent the thousands of patients I have seen over my career, and across the nation, who needed insurance and were not able to get it due to pre-existing conditions."
© Larry Downing/Pool