The little project that could
Posted: December 8, 2017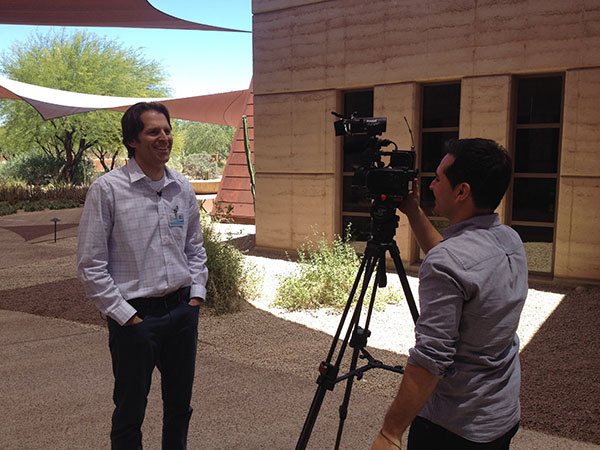 ATSU-ASHS alumnus Clint Draney speaks with a reporter from Univision.
Two years ago, Saul Rivera, MS, PA-C, '17, got a call from family members in Mexico. His grandmother was having a hard time speaking and felt very weak. No one in the family knew how to interpret these strange symptoms. Panicked, they took her to the hospital where they learned she had suffered a stroke. Because Rivera's grandmother received prompt treatment, she has since made a full recovery. Unfortunately, not all stroke victims are so lucky.
Recently, in a class on ATSU's Arizona campus, Rivera learned strokes are more prevalent and more likely to be fatal in the Hispanic population. The lecture resonated with him, as he reflected on his grandmother's experience. Rivera and his classmates, Clint Draney, MS, PA-C, '17, and Ephraim Temple, MS, PA-C, '17, decided to tackle the problem in their capstone project.
Their goal was to educate as many people as possible on the warning signs of a stroke and to make the information accessible to Spanish speakers. They developed a memory device, "5 Ds y llame al 9-1-1," or "5 Ds and call 9-1-1." Each "D" stood for a stroke symptom. In English, the "5 Ds" translate to arm weakness, facial drooping, difficulty speaking, headache, and sudden onset.
To reach the Hispanic population, Draney, Rivera, and Temple planned to distribute flyers at the Mexican consulate. However, thanks to a friend with local media connections, their project grew into something much bigger than they expected. The story was picked up by three of the Valley's largest Spanish-language media networks: Univision, Telemundo, and Prensa Hispana. In total, it reached more than a million people, including Rivera's grandmother and family in Mexico.
"I started calling this 'our little project that could,' because it reached far more people than we initially hoped," says Temple. "It was exciting to see the media's interest in increasing public awareness about strokes." "We had a lot of fun working on this project together and were surprised and pleased by how much exposure we got," adds Draney. "As recent ATSU graduates, we are excited to get out into the community full-time, promoting stroke awareness."
No doubt, the project has the potential to save lives. It has also created unique educational and professional opportunities for Draney, Rivera, and Temple.
"It was a wonderful experience to build networks," says Rivera. "The media contacts we developed will allow us to reach out to the Hispanic community in the future. We exceeded our expectations with this project, and we are very happy about that."