The last word
Posted: November 1, 2011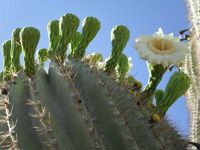 ATSU-ASHS Physical Therapy student Erin Shaw took this photo alongside a mountain biking trail by the Superstition Mountains in Summer 2010. The "Shrek ears," with a thick cream colored flower growing on top, turned her intense cardio workout into a leisurely ride.
"This was my first time ever seeing a Saguaro Cactus blooming, and nothing could have prepared me for its odd beauty," she says. "I took this picture standing up on my tip-toes with the bumblebees dancing around my head. I was pleasantly surprised that I was able to capture an un-fuzzy shot without a scratch or a sting."
Shaw says her passion lies within nature, rock-climbing above the clouds or zipping down dirt trails. "Photography is a way to capture the serenity along the trails," she says, "enjoying the journey, rather than drudging along seeking the peak."
Shaw owns a D40 Nokia camera, but for this shot used an average digital camera she doesn't mind getting a little dirty.