The front line
Posted: October 29, 2018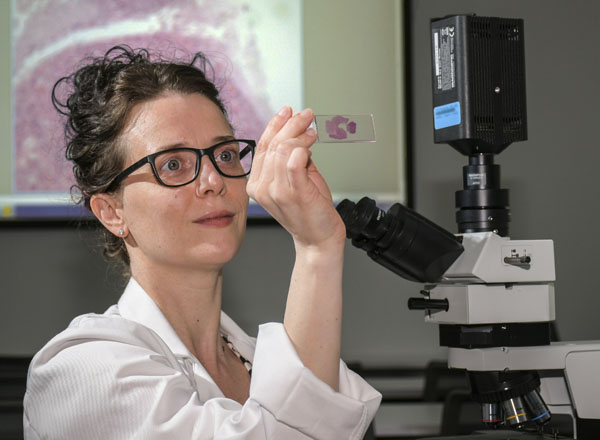 Dr. Melissa Blessing is a forensic pathology fellow at the Harris County Institute of Forensic Sciences in Houston, Texas.
Forensic pathologists are tasked with determining the cause and manner of death in sudden, unexpected, or violent deaths. They perform autopsies, analyze medical records and crime scene evidence, and talk to family members and law enforcement to assess whether death was caused by injury or disease. They are integral to public health and the healthcare system, as well as the criminal justice system.
However, the U.S. is facing a critical shortage of these professionals. Forensic pathologists are typically employed by the government and require at least four years of residency and a fellowship. Pay is lower than most medical subspecialties, and training programs often go unfilled. Additionally, few medical students receive enough exposure to the field to strongly consider it as a career.
Melissa Blessing, DO, '12, recently completed a neuropathology fellowship at Mayo Clinic in Rochester, Minnesota, and is currently a forensic pathology fellow at the Harris County Institute of Forensic Sciences in Houston, Texas. She considers herself fortunate to have attended ATSU-SOMA where pathology courses were taught by forensic pathologist Mark Fischione, MD.
During her time at ATSU-SOMA and extending throughout her anatomic and clinical pathology residency at Mayo Clinic, Dr. Blessing was heavily involved in advocacy of patients and the pathology profession. She served as an elected medical student representative on the Arizona Osteopathic Medical Association Board of Trustees and participated in DO Day at the Legislature in Phoenix, Arizona, as well as DO Day on Capitol Hill in Washington, D.C. In her fourth year, she successfully completed the Osteopathic Health Policy internship program with the American Association of Colleges of Osteopathic Medicine in Washington, D.C. During her residency, she served on the College of American Pathologists (CAP) political action committee and was a recipient of the CAP Leadership Development award.
"Involvement in the political process will always be an integral part of my career," says Dr. Blessing. "Public health and advocacy is a powerful – and possibly the only – way to create big change."
Dr. Blessing notes the opioid crisis has exacerbated the national shortage of forensic pathologists. The recent surge in drug overdose deaths has created an unprecedented demand for autopsies, including toxicology laboratory analysis. In addition, ongoing changes to the U.S. healthcare system significantly affect the pathology field – a field that is essential in all aspects of healthcare, including prevention. Medical professionals like Dr. Blessing, who are on the front line lobbying for reimbursement reform, graduate medical education funding, and other issues relevant to pathology, are vital for the profession and for communities.
"Encountering death and disease on a daily basis demands reckoning with the factors in our personal and professional lives – our families, our society, our environment, and our culture – that impact health," Dr. Blessing says. "It uniquely positions us to voice those connections in the political arena."