The case for inclusion
Posted: August 4, 2017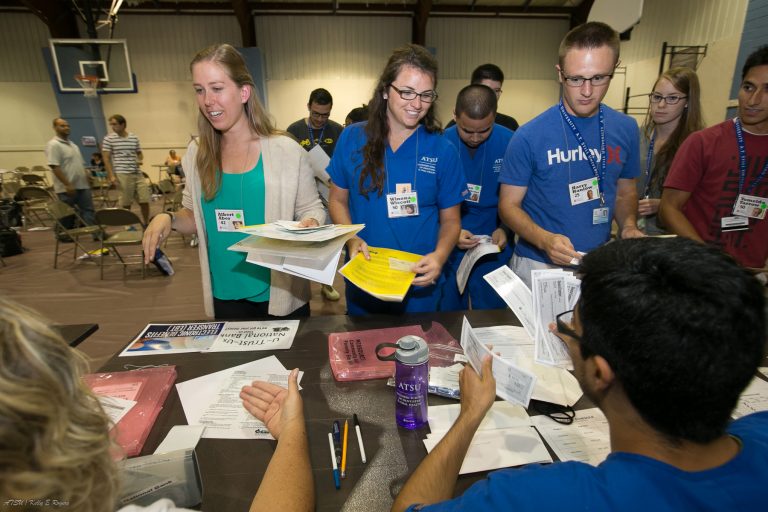 The Hunger Banquet and Poverty Simulation events raise awareness for the stark differences in socio-economic classes. Students are divided into groups that represent the upper, middle, and lower classes and are then asked to reflect upon the exercise.
Two white males in their 40s present lower back pain to the same physician – both elicit the same symptoms. According to their histories, both patients are relatively the same on paper. However, through discovery and patient-centered care, treatments for these patients will differ.
The physician in this case, through questioning and observation, discovered one of the patients is Amish. Because of the patient's cultural background, obstacles that stray from the norm come to the surface. Students at ATSU are taught to be cognizant of how different each particular patient encounter can be.
"You have to be considerate of every patient's situation," said Eric Lesh, OMS III. "Amish patients don't have any traditional healthcare plans, so you have to be mindful of that, especially when it comes to prescribing medication."
In a society constantly evolving, it is important to educate tomorrow's healthcare providers about diversity and how it plays a role in their everyday lives. ATSU believes in innovation, collaboration, and appreciation for differences.
"By valuing differences, we move closer to becoming culturally proficient service instruments," says Clinton Normore, MBA, associate vice president for diversity & inclusion.
ATSU's strategic plan specifically outlines a commitment to developing campus, clinic, and virtual environments embracing the broadest constituencies possible. The Diversity department and Diversity Enrichment Committee were created to help oversee development of these areas and enhance the University's cultural proficiency.
Student organizations, such as the Student National Medical Association, also encourage and embrace diversity. Events like Global Cuisine Night, Diversity Awareness Fair, Hunger Banquet, Poverty Simulation, and Faith Week not only expose faculty, staff, and students to the different cultures present at ATSU, but they also educate students and provide perspective of situations they may have not been exposed to otherwise.
ATSU's Safe Zone for All is another resource for students, faculty, and staff. The main purpose of the program is to help create a safe and receptive campus climate that accepts community members regardless of any human condition, characteristic, or circumstance. Staff and faculty members undergo training to become Safe Zone allies. Once trained, they become confidants for students, faculty, and staff.
To simulate real-world patient encounters, the University has offered electives for students that teach cultural awareness. Medical Spanish was one of the electives offered. Students learned basic and essential Spanish medical terminology and cultural practices. They applied knowledge from this course during their encounters with simulated patients to enhance their cross-cultural communication skills.
With all the different resources, groups, and events available, ATSU demonstrates its inclusive philosophy within and outside of the classroom. The University ultimately wants to prepare its students to meet the needs of those they will eventually serve. Graduating competent and culturally proficient healthcare professionals means greater access for vulnerable and diverse populations.
"Access applies to all those underserved," says Normore. "You can't be diverse without being inclusive."