The big 1-2-5: ATSU celebrates its quasquicentennial
Posted: December 9, 2017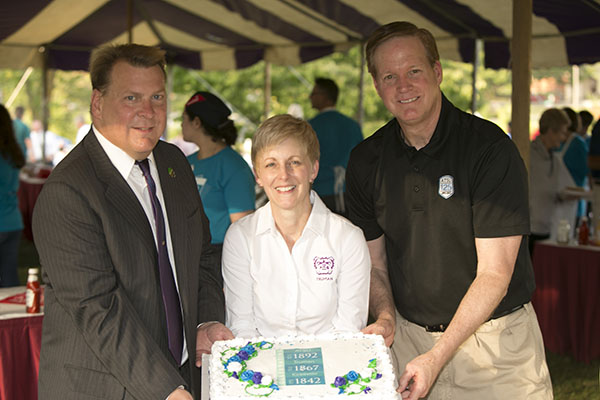 Kirksville Mayor Phillip Biston, Truman State University President Dr. Susan Thomas, and Dr. Phelps celebrate their respective anniversaries.
ATSU has made 2017 a year to remember. Throughout its 125th anniversary, the University has celebrated with alumni speakers, community health events, academic initiatives, special ceremonies, wellness activities, and a whole bunch of fun. Following are some of the memorable moments throughout ATSU's anniversary year.
Arizona campus Wellness Week
On Friday, Feb. 24, the Arizona campus ended its spring 2017 Wellness Week with a campus run, walk, and obstacle course for students and employees.
Assessment Week
ATSU held its third annual Assessment Week from Feb. 21-23 on the Arizona campus, with presentations broadcasted to both campuses. The week offered several events that addressed assessment needs of ATSU faculty and staff.
Alumni All-Star Speakers
ATSU-KCOM alumni visited the Missouri campus to speak about their time at the University and their professional careers.
MOMA Day
April 12 marked the fourth annual Missouri Osteopathic Medicine Awareness (MOMA) Day at the Capitol in Jefferson City. This year's MOMA Day, hosted by the Missouri Association of Osteopathic Physicians and Surgeons, was held in honor of ATSU's 125th anniversary.
Commencement ceremonies
ATSU-KCOM
The College graduated 173 DOs on Saturday, May 20, in Kirksville. Adrienne White-Faines, MPA, CEO, American Osteopathic Association, served as the commencement speaker.
ATSU-SOMA
ATSU-SOMA graduated 103 DOs on Friday, May 26, in Mesa. Sister Adele O'Sullivan, MD, family medicine physician for the homeless, delivered the commencement address.
ATSU-ASDOH
On Friday, May 26, Rick Rader, MD, FAAIDD, director of the Morton J. Kent Habilitation Center at Orange Grove Center, challenged 74 graduates to a professional bucket list.
The bucket list stated, "As a new dentist, I am committed to treating at least one patient in my career who cannot see me, who cannot hear me, who cannot thank me, who cannot understand me, who cannot high-five me, who cannot recall my name, who cannot read, who is at the end of their life, who may not like me, who is confused and scared, who is someone I once stigmatized, who might not be able to pay me, who competes in Special Olympics, and who lost their memories."
How did he come up with this list?
Dr. Rader said, "I made a list of my most memorable patient encounters."
ATSU-CGHS
ATSU-CGHS graduated 275 students on Friday, May 26, in Mesa. Will Humble, MPH, executive director, Arizona Public Health Association, served as the commencement speaker.
ATSU-MOSDOH
ATSU-MOSDOH celebrated its inaugural commencement ceremony on Saturday, June 10, in St. Louis. The Honorable Jeremiah W. "Jay" Nixon, JD, former Missouri governor, spoke to 42 graduates.
ATSU-ASHS
On Friday, Aug. 4, ATSU-ASHS held its commencement ceremony for 428 graduates. Sharon Dunn, PT, PhD, OCS, president, American Physical Therapy Association, delivered the commencement address.
Summer Healthcare Career Experience
ATSU and Truman State University collaborated to provide a Summer Healthcare Career Experience (SHCE) for high school students interested in healthcare professions. The four-day program involved hands-on activities at both universities.
"This is my second time going through this experience. I learned so much last year, and I'm so grateful I had the opportunity to come again." – Alfred Boyd on attending SHCE
White coat ceremonies
Arizona campus
On Friday, July 14, the Arizona campus welcomed 108 ATSU-SOMA students, 76 ATSU-ASDOH students, 60 ATSU-ASHS Physical Therapy students, and 70 ATSU-ASHS Physician Assistant Studies students. On Saturday, Sept. 9, the campus welcomed 14 ATSU-ASHS Audiology students.
Missouri campus
On Saturday, July 15, the Missouri campus celebrated 172 new ATSU-KCOM students and 42 new ATSU-MOSDOH students.
Kirksville Community Thank You event
ATSU, Truman State University, and the city of Kirksville hosted a Kirksville Community Thank You Dinner on Friday, Sept. 8, to thank hundreds of community members for their unwavering support. In addition to ATSU's 125th anniversary, Truman State University celebrated 150 years, and Kirksville celebrated 175 years.
Performance Assessment Center dedication
ATSU dedicated the Byron & Helena Greenberg Performance Assessment Center on Tuesday, Oct. 3. The naming opportunity was funded by Byron and Helena's sons, Eric G. (Rick) Greenberg, DO, '74, and the late David R. Greenberg, DO, '74.
Gift of Body Ceremony
On Thursday, Oct. 5, ATSU held its annual Gift of Body Ceremony on the Missouri campus. The ceremony honors those who have donated their bodies to the benefit of medical education.
Parades
ATSU-KCOM and ATSU-MOSDOH students rocked ATSU blue for Truman State University's Homecoming parade on Saturday, Oct. 14. ATSU also participated in the Kirksville High School Homecoming parade on Friday, Sept. 29.
Founder's Day — Missouri campus
Tinning Founder's Day Osteopathy Lecture
President Emeritus Fred C. Tinning, PhD, delivered the 2017 Fred C. Tinning, PhD, Founder's Day Osteopathy Lecture on Thursday, Oct. 19. As president from 1984-96, he was committed to one goal: "To do what is right for the institution, by preserving traditions and planning tomorrows." Following his lecture, he received a standing ovation and a painting of the Tinning Education Center.
125th Legacy Speaker
125th Legacy Speaker Bruce Mintz, DO, '81, delivered a unique and fascinating lecture about art, literature, history, and medicine during Founder's Day on the Missouri campus. The New Jersey-based physician is board certified in internal medicine and vascular medicine and is a staunch supporter of ATSU and the osteopathic profession.
"The goal of a physician is to see what everybody else has seen and think what nobody else has thought. Be an observer of life." – Dr. Bruce Mintz
Evening with the Stars
The University's annual "Evening with the Stars" provided ATSU-KCOM students the opportunity to interact with practicing clinicians.
Alumni Recognition Ceremony
On Friday, Oct. 20, ATSU held its Alumni Recognition Ceremony, welcoming back the classes of 1992 and 1967. Also during the ceremony, the Kirksville Osteopathic Alumni Association (KOAA) presented awards.
Women's flag football
The Missouri and Arizona campuses held their annual women's flag football games during Founder's Day.
Still-A-Bration
On Friday evening, Oct. 20, alumni, students, faculty, staff, and their families enjoyed the annual Still-A-Bration, which included children's activities, bonfire and s'mores, drive-in movie, and karaoke party.
"With the training provided here, you can get through amazing situations." – Dr. Richard Koss on his education at ATSU-KCOM
Founder's Day — Arizona campus
Day for Special Smiles
ATSU held its seventh annual Day for Special Smiles on the Arizona campus Friday, Oct. 27. Student and faculty volunteers from ATSU-ASDOH provided free dental care to 73 patients with special needs. Volunteers created a fun, Hawaiian-themed atmosphere to help ease patients' concerns about receiving treatment.
Arizona campus celebration
On Friday, Oct. 27, the Arizona campus held its annual Founder's Day celebration on the front lawn. The evening included a children's costume contest, interactive inflatables, face painting, carnival games, and food. During the event, Mesa Vice Mayor David Luna presented Dr. Phelps with a proclamation declaring Oct. 27 as "A.T. Still University Day."
2142
What will ATSU, healthcare, and education look like during the next 125 years? To help shape the University's future, please share your bold and innovative ideas by emailing president@atsu.edu.