Thank you for serving: Two trustees complete terms of service
Posted: April 20, 2022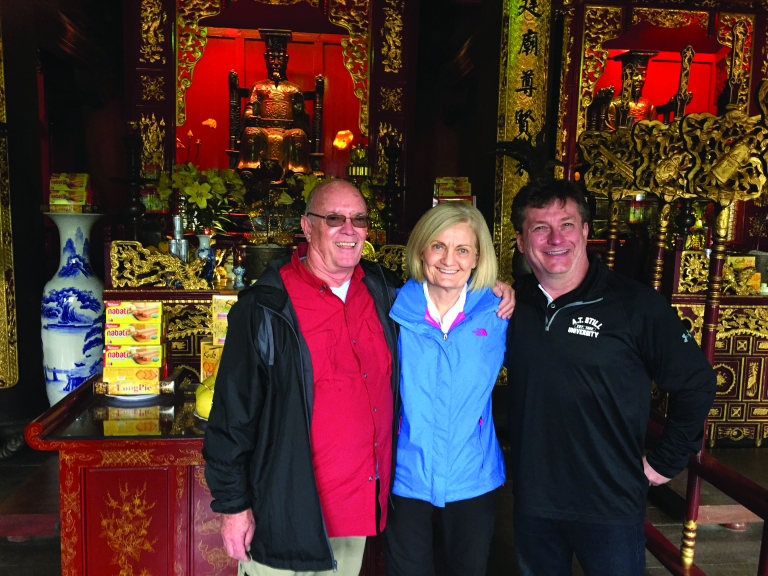 Drs. Stanley Grogg, Lisette Dottavio, and Scott Drew travel to Vietnam as part of a medical mission.
G. Scott Drew, DO, FAOCD, '87, and C. Lisette Dottavio, PhD, CPA, completed their terms of service to ATSU's Board of Trustees in 2021, marking the end of an experience they consider the highlight of their careers. During their terms, they helped guide the University through times of change and growth, including openings of ATSU-MOSDOH in Kirksville, Missouri; the St. Louis Dental Center; and the Central Coast Physician Assistant program in Santa Maria, California. Before they served on the board together, they first met in 1993. At the time, Dr. Drew was a member of The Ohio State University of Marion (OSU Marion) Dean's Advisory Council, and Dr. Dottavio's husband was dean of OSU Marion. With a shared passion for community service, their families became friends.
When Dr. Drew joined the Board of Trustees in 2012, his years of service to his alma mater came full circle. As a student, he served on the Kirksville Osteopathic Alumni Association (KOAA) board, and after graduation, he helped with fundraising activities, provided continuing medical education lectures, and served as a preceptor for student clinical rotations. He also served on the KOAA board again as an alumnus. When asked about his interest in joining the Board of Trustees, he thought his membership would be a great way to demonstrate gratitude to ATSU and pay it forward.
"I have always been grateful for what ATSU did for me," Dr. Drew says. "ATSU is more than a school; it's a
community."
Around the time Dr. Drew became a board member, there was an interest in diversifying the board's membership to include non-medical expertise. Dr. Drew nominated Dr. Dottavio because of her background in accounting and education. Her experience enabled her to work with ATSU's chief financial officer and to help clarify how new regulations and changes in tax legislation affected the University.
Outside the boardroom, Drs. Drew and Dottavio and fellow trustees took time to get to know each other, meet with students, attend graduation and white coat ceremonies, and even participate in medical mission trips with former trustee Stanley Grogg, DO, '71.
"Watching our students minister to patients in these underdeveloped countries and seeing the passion that Drs. Grogg and Drew had for teaching students in these environments was life changing," Dr. Dottavio says of her time in Nicaragua and Vietnam.
"It has been a dream opportunity," Dr. Drew says. "Serving on the board has taken me to places I never
thought I would be."
Dr. Drew's tenure on the board included three years as chair, which he says was the most unexpected honor of his career.
"It gave me the opportunity to be the voice of a collective group of people dedicated to advancing the
mission," Dr. Drew says. "We all care about each other, and we care about the goals of the University."
Drs. Drew and Dottavio emphasize the board's commitment to fulfilling the mission, providing students with an exceptional education, supporting administration, and encouraging faculty in research and innovative teaching. Even when faced with difficult decisions, the board's collegiality and appreciation
for one another's background and expertise allowed trustees to reach consensus.
"ATSU has an exceptional board with a commitment to a governance model that focuses intently on the
mission and osteopathic tenants of the University," Dr. Dottavio says. "I have never served on a board so
congenial and dedicated to their institution."
Did you know? ATSU's mascot Bucky, the Ram of Reason, was born and raised in Marion, Ohio.
G. Scott Drew, DO, FAOCD, '87
Years on the board: 2012-21
Hometown: Marion, Ohio
Occupation: Dermatologist with Dermatology Associates of Mid-Ohio
Background: A graduate of ATSU-KCOM, Dr. Drew completed an internship at Normandy Osteopathic Hospitals in St. Louis, family practice residency at University of Medicine and Dentistry of New Jersey, and dermatology residency at Deaconess Medical Centers in St. Louis.
From President Phelps
"Dr. Drew's three-year service as board chair led to unprecedented accomplishments in ATSU's diversity efforts. The University will be forever grateful for his nine years of service and the energy he brought to meetings and events."
C. Lisette Dottavio, PhD, CPA
Years on the board: 2013-21
Hometown: Stephenville, Texas
Occupation: Senior tax accountant with Boucher, Morgan & Young
Background: Prior to becoming a certified public accountant, Dr. Dottavio earned a master's degree in alpine geomorphology and doctorate in remote sensing and was a program manager for NASA at the Goddard Space Flight Center in its unmanned satellite program.
From President Phelps
"During Dr. Dottavio's tenure, she played an instrumental role in strengthening ATSU's financial health and was known for always looking out for the well-being of our students. Thank you."