Thank you for 125 years!
Posted: August 4, 2017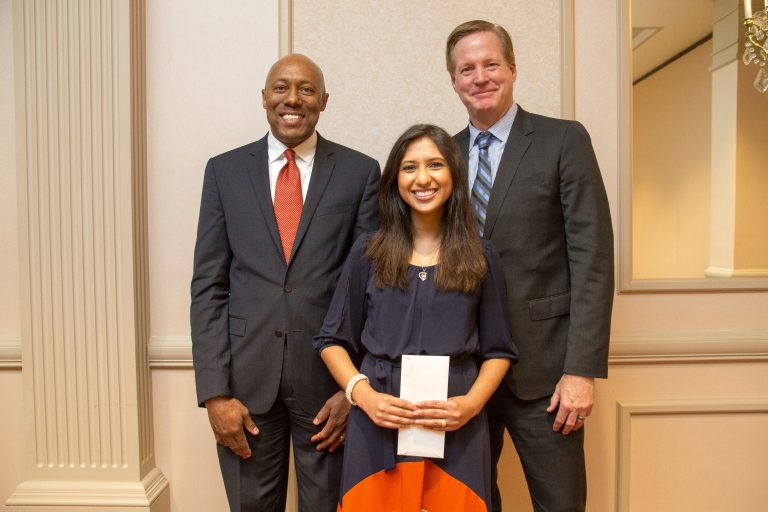 ATSU-MOSDOH Dean Dwight McLeod, Dr. Phelps, and Pardeep Kaur Gill, DMD, '17, celebrate the School's inaugural graduating class at an awards banquet on May 16.
This edition of Still Magazine celebrates our 125th anniversary and thanks the countless advocates of ATSU and osteopathic medical education. On the following pages, you will see story after story of alumni and students carrying on the legacy that began in 1892.
When Andrew Taylor Still, DO, started the American School of Osteopathy, it was the local Kirksville community, patients from across the country, and interested individuals who assisted in making the school a reality. Today, we are still thankful for those who support ATSU and the professions of our graduates. As you will find in this issue, ATSU has grown into a leading, comprehensive graduate health sciences university, and osteopathic medicine has reached even greater heights.
Early in my career, I was amazed and humbled by the dedication and support from ATSU, patients, non-DO healthcare professionals, and state and national osteopathic organizations. Through the generous support of others, I learned to be thankful for those who believe in you and what you do. I now am privileged to witness this support every day from our advocates at the University level.
On our Missouri campus and around the city of Kirksville, it is easy to see and sense the impact of Dr. Still's legacy. On our Arizona campus and at the St. Louis Dental Center, Dr. Still's presence is visible through the caring ways and innovative spirit of our faculty, students, and staff. None of this would be possible without the support of all who believed in us.
So once again, thank you for 125 wonderful years.
Yours in service,
Craig M. Phelps, DO, '84, president