Talent and versatility: ATSU students embrace pursuits outside the classroom
Posted: April 21, 2022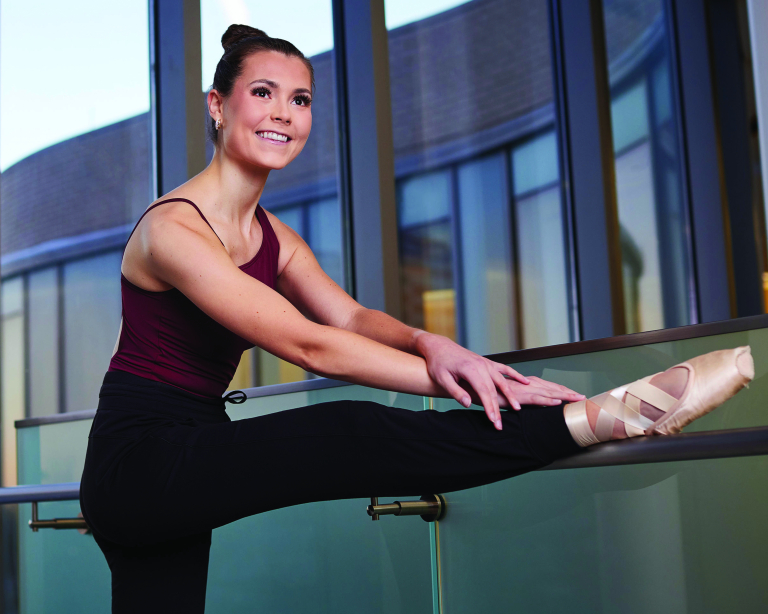 ATSU students are incredible people. They are talented not only in the classroom but also outside the classroom. These versatile future healthcare professionals have skills and interests extending beyond their
fields of study. Among those varied and diverse talents are artistic talents – visual, literary, performing, culinary, and more.
With too many healthcare professionals experiencing stress and burnout, it has become increasingly important to find joy and use personal skills and abilities to engage in creative activities. According to ATSU Vice President for Student Affairs Lori Haxton, MA, creative extracurricular activities help students connect with others and develop life skills.
"Pursuing hobbies outside of coursework provides balance," Haxton says. "These outlets allow students to take a break from studying and engage in something they enjoy. It helps them as students, and it helps
them in practice."
On the following pages and throughout this issue, Still Magazine highlights a few of the many ATSU students who embrace their artistic and unique talents to express themselves and build resiliency.
Reagan Adair
Ballet
Adair enrolled in her first ballet class when she was 3 years old. Little did she know it would become a lifelong passion. Now a first-year medical student at ATSU-KCOM, she continues to take classes and help with the company and studios in her hometown as time allows.
"I still remember the day it all shifted," she says. "I went to see 'The Nutcracker' with my Girl Scout troop, and after being in awe of the dancers, I told my mom I was going to audition for the ballet company."
Her mom was very surprised but supportive, since Adair had been focused more on sports in previous years. A few months later, Adair walked into Capital Ballet Theatre's doors on the morning of the audition. From that moment forward, dance became a huge part of her identity.
"Dancing taught me hard work, attention to detail, perseverance, and a longing for continued self-improvement," Adair says. "While ballet and pointe are my foundations, I really enjoy lyrical dancing. I have more freedom and enjoy putting more emotions into movements, rather than focusing on traditional lines and positions."
Quincy Akaba
Visual arts
Growing up in Ghana and Italy and immigrating to the U.S., Akaba has always used art as a means to understand the world and express himself. He was often at a loss for words as he adjusted to different environments, but art helped him find similarities in the world and in people.
"If I could see it, if I could draw it, then I could understand it and connect to it," Akaba says. "Even without a common language, everyone has something to say."
Now a first-year ATSU-SOMA student, he still incorporates art into his everyday life. Prior to medical school, Akaba worked as an elementary and middle school teacher for a Science, Technology, Engineering, Art, and Math (STEAM) after-school program for underserved, phenomenal youths in Philadelphia. In this program, he exposed students to the possibility of careers in medicine, law, journalism, engineering, and politics while introducing them to various methods of healing, including meditation, journaling, yoga, fitness, and art.
"Not only do I want my students to see the endless possibilities their future holds," he says, "but I also want them to understand what it means to be whole and achieve balance of the mind and body in life."
HaEun Park
Cello
Park started playing cello at age 5. Her mother encouraged her and her siblings to play an instrument. Since her two older brothers already played the piano and violin, her mother suggested she play the cello.
"I was already learning to play piano, so she introduced me to another string instrument," Park says. "One advantage of the cello is it can be played as a bass or melody."
At age 14, she decided to study abroad in the U.S. She knew flying internationally with a cello would be a constraint because she could only take one other checked bag – and fewer Korean snacks. Nevertheless,
she brought her cello.
"I knew I would be living in a new environment with a new language," she says. "I had to take my cello with me." Throughout her youth, she took weekly lessons and played in orchestras, weddings, and church services. Now a first-year dental student at ATSU-MOSDOH, she enjoys playing on her own in her free time.
"I love the sound of the cello, more than any other instrument," Park says. "Playing and listening to the cello helps me relax and enjoy the moment."
Mrea Holden
Quilting
Holden is a second-year physician assistant (PA) student at ATSU-ASHS. A self-taught quilter and seamstress, she knew PA school would be difficult, so she set aside a king size quilt to make during the program, thinking it would take her at least two years.
"I guess I sew fast because I've made everything I set aside," Holden says. "I gave the king size quilt to my husband as a late anniversary gift and to let him know I'm still thinking of him even though my head is in a book."
She continues to sew projects to keep herself grounded through the stress and many hours of study. She has quilted mug rugs for her study buddies and smaller quilts for family members going through hard times during the pandemic. She has also made masks for healthcare workers.
"I know if I'm having a hard time sewing a straight line, I need to relax," Holden says. "Sewing is one thing that helps center my inner thoughts."
Faison Jackson, MPH, '18
Cooking
Cooking is one of Jackson's favorite pastimes. It brings him back to his mother's kitchen where he learned to cook at age 12. He started off cracking eggs into bowls and worked his way up to chopping ingredients. Then, when his mother felt he was ready, he added ingredients to the pan and watched over the food, cooking each dish with love and care.
Time spent with his mother in the kitchen was filled with encouragement and support. They talked and laughed, and she taught him how cooking could be a stress reliever. However, at such a young age, he didn't understand what that meant.
"Now as a young adult in physician assistant school, I use my cooking skills after a stressful day of studying to unwind," says Jackson, a first-year student at ATSU-CHC.
Jackson's grandmother – his best friend and the "dessert queen" – also helped him develop his cooking skills. He remembers sitting on a bar stool in her kitchen, watching her prepare food for family gatherings.
"Desserts take time and care," he says. "She taught me if I want to be a future healthcare provider, I have to take time with my patients and show them I care."
Isaac Coronel
Viola, writing
Outside of dental school, Coronel spends much of his time immersed in music, theater, and writing. Music has been his main passion since fourth grade, when he started playing the viola. His theater and writing journey, though, didn't begin until college, where he was challenged to express himself in dramatization and learn literary techniques to benefit his writing skills.
A third-year ATSU-MOSDOH student, Coronel has performed with local theater groups and community
orchestras, including performing and writing a piece for the Kirksville Community String Orchestra. While he likes performing in front of an audience, he most enjoys composing choral and instrumental music while at home sitting next to his piano.
He has written a collection of 40 short stories, which are fantasy based with an Aesop's Fables style of writing. During a struggle with burnout, he was inspired to write a 30-poem collection on the importance of art. He is currently writing one more collection of short stories and a five-novel series.
"The stresses of dental school, as well as being the class president, can be overwhelming," he says. "The arts allow me to find meaning in stress and even happiness that comes with a difficult career."
Savannah Rose
Photography
A second-year dental student at ATSU-ASDOH, Rose grew up with a dentist and a professional photographer, so it was only natural for her to follow in both their footsteps. She began taking photography more seriously within the last six years, and her passion for it has helped her find a creative outlet for stress reduction.
Rose believes it is vital for students going through intense academic programs to find something that brings them joy, stimulates the mind, and helps keep them healthy. Combined with her love of hiking, photography has kept her active and led her to discover amazing places in Arizona and throughout the Pacific Northwest.
"I strive to get out at least every Saturday or Sunday and go explore," she says. "Ideally, I try to find places to shoot that are inaccessible by car."
Nasheen Nizamuddin
Henna design
Hand skills are important for dental students. Much of their work relies on their dexterity to carry out precise movements. Nizamuddin, a second-year dental student at ATSU-MOSDOH, uses her henna design
ability to help develop her fine motor skills.
Nizamuddin started making henna designs as a hobby when she was 16. She mostly practiced on paper with free-to-use designs while she adjusted to holding the henna cones. Eventually, she started doing freehanded designs and practicing on herself, and after building her confidence, she started making designs for family and friends.
The designs are quite intricate. While they have many variations, certain shapes and elements are used frequently, including flowers, leaves, peacocks, and swans. The designs may be applied anywhere on the body, but certain locations, like the palm of the hand, have more significance.
"Henna requires a lot of attention to detail, as there are many minute features that need to be included in a high-quality piece," Nizamuddin says. "Because of this, I think henna serves as a great way to refine motor skills, especially when it comes to positioning your handpiece and moving in small increments."
Judia Yael Malachi, PhD
Crafting
Dr. Malachi loves making things with her hands. The first-year physician assistant (PA) student enjoys crafting a variety of pieces and products, including shadow boxes, hair care products, body butters, and T-shirts and other accessories with uplifting sayings.
"There is power and healing in our hands," she says. "Our hands allow us to create and say so much, without saying a word."
One of the first pieces Dr. Malachi made was in fall 1997 as an undergraduate student. Her sorority was hosting an informal information session, and she was asked to bring one thing representing her. Being torn about "one thing," she used magazine clippings and images to create a visual description of who she was and what she saw for her future.
Now as a PA student at ATSU-CHC, she continues crafting because it brings her happiness and healing.
"Working with my hands and creating brings me joy, and this joy is increased when I am creating something for someone else," Dr. Malachi says. "When I am creating a piece or a product, my mind is clear, I am still and at peace, and I feel God's power and love working through me."
Kari Nhi Pham
Crocheting
Coming from a creative family, Pham has always been interested in the arts. As a child, her mother encouraged creativity and taught her craft skills. When the pandemic hit, Pham began crocheting and started making various projects, including amigurumi, which are small plush toys.
"I do my best to live a sustainable life, and because of that, 100% of my yarn is either cotton or recycled materials," says Pham, a first-year physician assistant (PA) student at ATSU-CHC. "I also enjoy making coasters and granny squares to hopefully complete a granny square blanket one day."
Although PA school keeps Pham busy, she still tries to find time to crochet. During her first break from school, she says she went on a "crochet binge" and finished about 20 projects, which she later gave as gifts to family, friends, and classmates.
"I find it is a great distraction away from medicine and allows me to be in my own world of yarn," Pham says. "The end result is always something so delightful, and I love creating cute things and making others happy with my talents."
Anthony Delia
Singing, songwriting
Delia, a first-year medical student at ATSU-KCOM, is a self-taught guitarist, pianist, and vocalist. He received his first guitar in first grade as an early Christmas present from his parents so he could participate in his class talent show. In sixth grade, he started playing piano, writing music, and singing.
By high school, Delia performed in small coffee shops as a single act to amphitheaters as an opening act for larger bands. He placed first twice in the University of Missouri Creating Original Music Project, a statewide original songwriting competition.
"While living in New York City, I was able to perform and write music with incredibly talented and diverse musicians," he says. "I remember walking home from class during the evening and joining in with subway jazz bands, street-corner country duos, and singer/songwriter stage performers, all of which have allowed me to better understand others' experiences."
Though he enjoys performing, he is most passionate about composing and producing music.
"What started off as a hobby developed into a bridge to others' feelings," Delia says. "I've always written and listened to music with the notion it is a universal language capable of transcending just about any boundary."
Laquisha Malone
Singing
Since Malone was old enough to walk, she has been singing. The first-year medical student at ATSU-SOMA learned to sing from her paternal grandmother, Earline Malone, who taught her and her cousins songs for church. As she grew up, her love of singing led her to sing in church as a soloist and in a gospel choir.
"I also sang in concert-style choir and as a soloist in school," Malone says. "I was soprano section leader my senior year of high school."
With an affinity for gospel music, Malone has sung at funerals, memorials, and community events. Upon entering medical school, she sang "God Bless America" at the School's 2021 White Coat Ceremony in Mesa, Arizona.
"Singing serves me as a form of expression, stress relief, and worship," she says. "It also allows me to encourage and uplift others with my gift."
Jahzeel Paguntalan
Violin
Paguntalan, a first-year physician assistant student at ATSU-CHC, formed an interest in learning to play violin through a unique source: video games. Many of the video games he played as a kid used violin instrumentation. He began taking lessons at 12 years old, and although he felt he was "late to the game," his background in playing piano eased his learning curve.
The music he learned to play initially revolved around a classical repertoire. As an undergraduate student, he joined a collegiate orchestra and started playing other kinds of music, including soundtracks from video games, which he found enjoyable and nostalgic.
In 2018, Paguntalan began teaching violin to some friends, coworkers, and their children. He then joined a music studio to expand his class, which accentuated his interest in sharing his passion with others.
"It makes me feel grounded in my own capabilities as a human being, despite having worries or troubles that may make me think otherwise," Paguntalan says. "Even though music and healthcare are two unrelated subjects, the violin helps keep me adhered to my 'why' of my pursuit of becoming a healthcare provider."
Chuck Monteith
Ice cream making
Chuck Monteith is an associate athletic trainer at Colgate University and a student in the Doctor of Athletic Training (DAT) program at ATSU-ASHS. He has been with Colgate University for 16 years, currently
working with the men's lacrosse team and all concussed varsity athletes as the concussion recovery manager.
"I started in ATSU-ASHS' Sport Neurology and Concussion certificate program to improve the management and care of our concussed student athletes," Monteith says. "As I progressed through
the certificate program, I enjoyed what I was learning and realized continuing through the DAT program would improve me as a clinician and positively affect the student athletes."
Outside of his work at Colgate University, Monteith is an ice cream maker and owner of Chuckles Creamery. He grew up making ice cream with various rock salt machines, but his business took off in 2010 when he received an automated machine as a gift. Now with two cold compressor units, he typically makes a few batches each week and even more around holiday seasons.
"I enjoy trying out different recipes and techniques," Monteith says. "I am a big believer of mix-ins. You cannot have too much!"
Tulley Shofner
Painting
Shofner, a first-year medical student at ATSU-KCOM, has a true appreciation for the artistic side of medicine. Growing up in a creative household with her father being a woodworker, she always loved the arts and working with her hands. She particularly enjoys painting and ceramics.
In addition, Shofner enjoys music and is a classically trained singer. As she pursues her osteopathic medical degree, she continues to embrace the arts for fun and relaxation.
"I think art has a neat correlation to medicine," Shofner says. "It relates to so much of what we are learning, especially with anatomy, osteopathic manipulative medicine, and other disciplines of medicine."
Learn more about Shofner and her selection as the first recipient of the Steinbaum-Levine Endowed Scholarship.
Kristine Thoi
Interviewing
When Kristine Thoi noticed a trend of medical students interviewing their classmates on TikTok, she got the idea to interview her classmates and ask about their journeys. Rather than only showcasing students who took the traditional path, the first-year physician assistant (PA) student at ATSU-CHC wanted to show there is no specific route to PA school.
As the youngest of 88 students in her cohort, Thoi felt a bit intimidated to reach out to her older, more experienced classmates. However, these videos, some of which have accumulated more than a million views, have given her an opportunity to learn more about her peers and build her sense of community.
"There are so many nontraditional applicants coming from different walks of life," Thoi says. "Mostly, I hope these videos answer questions pre-PA applicants may have and inspire people to learn more about the PA profession."
Jacob Palmer
Gaming
Building connections and making friends are the reasons Palmer, a second-year ATSU-MOSDOH student, has been playing video games since high school. Since that time, he has continued to play, and at a highly competitive level.
In college, he began playing League of Legends, a multiplayer online battle arena video game heavily reliant on coordination and teamwork. The game has a five vs. five (5v5) player format, and each team manages their time, resources, logistics, and skills to gain advantages over opponents.
"I was a League of Legends coach for my alma mater, Southeast Missouri State University, my final year of school," Palmer says. "I coached our primary 5v5 team and gave position-based coaching."
By the time Palmer matriculated to dental school, he was ranked in the top 1%-3% of players worldwide. Currently, he does not play League of Legends regularly because of academic commitments, but he maintains his rank in the top 5%-7% of players.
"Right now, I play other faster-paced games I can pause or save," he says. "I play games with my classmates just about every day after I get home from the gym."
Husein Kovacevic & Andy Le
Speedcubing
ATSU-KCOM first-year medical student Andy Le (right) was 5 years old when his dad bought him his first Rubik's cube. He played with it for a few hours and became so frustrated, he threw it into his bin with his other neglected toys. Over the years, it collected dust in the corner of his room until fifth grade when he came across a YouTube tutorial. He was then able to solve the cube in about two minutes.
Le started improving his time in high school when he met a fellow classmate who was also into "cubing." He bought a speedcube, a newer version used in competitions, and more and more classmates began playing.
"We all taught each other how to solve it, and being as competitive as I was, I got it down to around 20 seconds," he says. "By the end of college, I was able to get it under 15 seconds."
In 2018, Le participated in his first speedcubing competition, held by the World Cube Association.
"You think you take this hobby seriously until you are competing next to a 13-year-old who can solve the Rubik's cube in less than 10 seconds," he says. However, cubing has allowed him to make many friends who share the same hobby, including fellow ATSU-KCOM classmate Husein Kovacevic (left).
"Cubing has also been an excellent way to keep my hyperactive brain occupied," Le says. "It definitely comes in handy as a way to take off a little edge in school."
For Kovacevic, he first solved a Rubik's cube in seventh grade, also after watching a YouTube tutorial. It only took him a few weeks to learn how to solve it in 30 seconds. He says the most challenging part was remembering move combinations to get the pieces in the right spot.
"Being able to solve a Rubik's cube has helped me learn how to stay calmer under certain situations," Kovacevic says. "It has taught me to not panic and just trust the process."