Taking it to the next level
Posted: February 24, 2010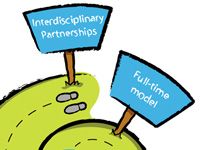 Changes at SHM reflect University's vision for quality
ATSU's School of Health Management continues not only to increase its student population, but also to cultivate its quality.
Since taking office as SHM's third dean in December 2008, Kimberly O'Reilly, D.H.Ed., '08, M.S.W., has led the school in a suite of changes to ensure its academic excellence.
In July 2009, the first full-time faculty members in the school's history began new positions, and formal program chairs were appointed. An adjunct model was previously used.
Other changes are slated for SHM in the coming year. To further develop a learning-centered environment, SHM is actively seeking to decrease its student-to-faculty ratio. To increase the quality of its applicant pool, SHM recently implemented an increase in the minimum cumulative grade point average (CGPA) required for admission across all programs. Beginning with the fall 2010 quarter, SHM will require that applicants have a 3.0 CGPA, an increase from its previous 2.5 CGPA requirement. Additionally, the school plans to align each of its programs with national credentialing, thus advancing the quality of the degrees.
"National credentialing for the doctor of health education program will happen through the Council on Education for Public Health (CEPH), and the curriculum is being revised to prepare graduates to perform National Commission for Health Education Credentialing (NCHED) responsibilities, competencies, and sub-competencies," says Health Education Program Chair Erin Breitenbach, Ph.D. "The new curriculum is expected to go into effect fall 2010."
The public health – dental emphasis program is working on accreditation through the Commission on Dental Accreditation, the health administration program through the Commission on Accreditation of Healthcare Management Education, and the public health program through CEPH.
Collaborations in interdisciplinary research are being explored with the A.T. Still Research Institute, and SHM is looking for other joint initiatives within the University as well, including a possible partnership with ASHS' physician assistant program in the area of public health. The school already collaborates with the Arizona School of Dentistry & Oral Health to provide the master of public health – dental emphasis program.
"We're fortunate at the Arizona School of Dentistry & Oral Health to have the School of Health Management as a sister school within A.T. Still University," says ASDOH Dean Jack Dillenberg, D.D.S., M.P.H.
"They provide us the wonderful opportunity to take online courses in public health. The partnership has been a terrific advantage; SHM is a great organization with fabulous faculty."
"The next five years will be very exciting at SHM," Dr. O'Reilly says. "Since the school's inception 10 years ago, we've experienced an amazing amount of change. We've had a large boom in student interest, and we expect that to continue. We're continually looking for ways to take our programs to the next level of accreditation and recognition within the industry."