Take 3 for IPE
Posted: June 28, 2013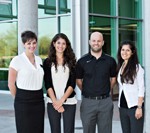 It's been a hallmark year for interprofessional education (IPE) at ATSU. An important initiative interwoven throughout all University programs, IPE is an essential step in preparing collaborative, practice-ready health professionals who have learned about, from, and with each other to provide and promote a team approach to patient care and improved patient health outcomes.
"Institutionally, we're where most people are—trying to work out how to make [IPE] a reality," said Interim Director of Interprofessional Education and Collaboration Barbara Maxwell, PT, DPT, '06, MSc, Cert THE.
"People think it's about getting people in class together, and it's not," Dr. Maxwell continued. "It's about giving students opportunities to learn from and about each other—teaching students what each profession brings to the table so that they begin to respect each other's professions and in that moment of patient care they begin to communicate and work collaboratively in teams for the sake of the patients they serve."
The past year has yielded numerous educational, research and scholarship, clinical practice, and service learning opportunities across all ATSU schools and in the community. Students are gaining practical experience and building relationships across healthcare professions through efforts like these:
1. Clarion National Case Competition
An interdisciplinary team of students competed in the Clarion Competition, an annual national event sponsored by the University of Minnesota. The competition requires interprofessional teams of four students to conduct a root-cause analysis of a sentinel health event.
Suzie Aparicio, AT, '14; Sarah Usher, D3; Kenyon McAferty, OMS I; and Erica Brueggen, OMS III, represented the University in Minneapolis in April. The team focused on issues surrounding the high level of 30-day hospital readmissions for patients with chronic obstructive pulmonary disease. Although the team did not place, students found it to be an incredible learning experience.
"Clarion provided me with an opportunity to collaborate with colleagues in other ATSU programs and develop solutions for the most pressing concerns in healthcare," Usher said. "I have made lifetime friends and increased my awareness of the importance of interprofessional collaboration needed to advance the quality and consistency of patient care."
2. Interprofessional Education Collaborative Case Competition (IPE-CCC)
At the inaugural IPE-CCC last December, students shared interdisciplinary teamwork experiences. Seven interdisciplinary teams of students representing nine programs from ATSU's Arizona and Missouri campuses and Arizona's Grand Canyon University (GCU) nursing program participated. Each team prepared and presented an analysis of the same hypothetical case and presented their findings and recommendations for enhanced collaboration to a panel of judges representing leaders from various disciplines within the healthcare programs.
"Students are the driving force," said ATSU Board of Trustees Chair Clyde H. Evans, PhD. "At the grassroots level, you need students and faculty who believe in interprofessional education."
The competition was an initiative driven by the Student Committee on Interprofessional Education led by Adam Bennett, third-year dental and public health – dental emphasis student, and Rochelle Zangen, PA, '13, with hopes that it will develop into a national competition represented by many universities.
"The competition introduced the basics of collaborative care and some of the real-world difficulties that interprofessional teams encounter," said Bennett, who won second place in the national student research competition at the American Dental Education Association Annual Session in Seattle in March for his presentation "A Didactic Module to Address Emerging CODA Standards and Overcome Common Challenges to IPE Integration."
3. Interdisciplinary Biomedical Research Symposium (IBRS)
Last September, faculty, staff, and students presented oral and poster presentations on the Missouri campus at the fourth-annual IBRS, hosted by the A.T. Still Research Institute (SRI) and co-sponsored by ATSU and Truman.
Nearly 30 poster presentations by participants from KCOM, SOMA, and Truman displayed current research on topics ranging from developmental disorders to biomedical technology. For the first time, research was also presented by faculty and students from regional institutions including University of Missouri-Columbia, Monmouth College, and University of Missouri-St. Louis.
"The symposium is a wonderful opportunity to bring together students and faculty not only from both ATSU campuses and Truman, but from other undergraduate colleges in the Midwest to share their research activities and presentations. It is a great collaborative effort and chance to learn," said KCOM Dean Margaret Wilson, DO, '82.
Every school across ATSU continues to implement IPE into its curriculum—part of ATSU's strategic plan.
At KCOM, in addition to its The Complete DOctor course and House Calls program, Family Medicine is working to develop a curriculum that includes collaboration with the local community health clinic system to provide a longitudinal experience in a primary care medical home. KCOM is also working with Truman's nursing program to develop interprofessional standardized patient and human patient simulator experiences. Many more plans to incorporate interprofessional opportunities will unfold when the Missouri School of Dentistry & Oral Health (pending accreditation) opens its doors on the Missouri campus.
According to SHM Interim Dean Don Altman, DDS, DHSc, MPH, MBA, MA, the School is planning and developing online education courses that will bring students from its different programs together in the virtual classroom to discuss contemporary topics such as bioethics and working as a team in a community setting.
"The integration of IPE within ATSU's strategic plan is vital to student learning, intrinsic to ATSU's mission, and yields positive results in terms of patients' healthcare outcomes," said ATSU President Craig M. Phelps, DO, '84.
ATSU's mission and vision, serving the underserved and attending to the healthcare needs of the whole person, set it apart from the competition and complement its ability to successfully implement IPE.