Surviving Sandy
Posted: May 13, 2014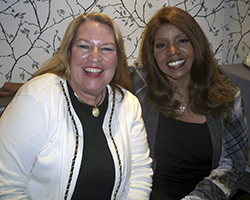 Dr. Cynthia Paulis
When her essay on surviving Hurricane Sandy was chosen in a worldwide competition to be included in the 2013 book "We Will Survive" by 70s disco queen and Grammy Award-winning artist Gloria Gaynor, KCOM alumna Dr. Cynthia Paulis was delighted to share her story of encouragement and inspiration.
Dr. Paulis, who graduated from KCOM in 1984, is a woman of many talents. She is board certified in emergency medicine and family practice, a national and international lecturer, and a medical columnist. After undergrad, she worked briefly on Wall Street for Solomon Brothers. At age 24 she founded her own company, American Health Services, which helped bring physicians to underserved areas.
"This was an unusual concept for a woman to run a business in the 70s," Dr. Paulis recalls, and her experience was featured in the book, "The New Entrepreneurs."
Read the article, "Still Surviving Sandy," which ran on the front page of Dr. Paulis' local newspaper, The Massapequan Observer, in January.

See Dr. Paulis' interview on FOX TV in New York City concerning her story on Hurricane Sandy.
At age 27 she applied to medical school and was accepted with a full scholarship to the United States Public Health Service. While at KCOM, she was elected the first female class president.
After internship and residency in New Jersey she was sent to Ada, Okla., for four years to work with Native Americans as her scholarship payback. She learned firsthand the hardships of rural life and lack of adequate health information. She approached a local TV station manager about doing a health spot on the afternoon news. The idea took off, and she became the "Ask the Doctor" for a CBS affiliate as a weekly healthcare segment with live call-in questions. The show was filmed in Texas, so Dr. Paulis learned how to fly a plane. After her four-year payback she returned to the northeast briefly before buying a home in Texas. She worked the night shift in the ERs of border towns, flying to each location.
She retired in 2009 after 29 years in medicine to write full time. She writes several healthcare columns and is working on a book about her experiences working border towns on the night shift. She lives in both New York and Texas.