Support echoes through the streets
Posted: September 23, 2020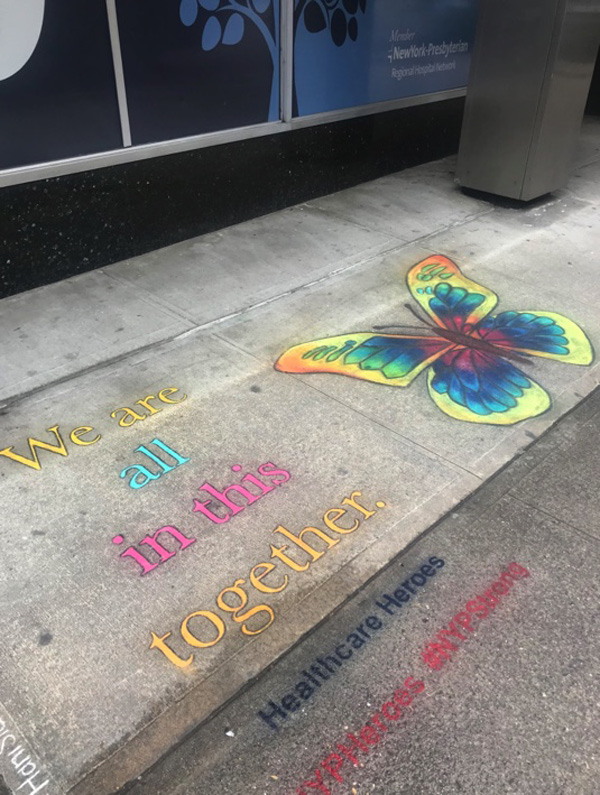 "We are in this together" written in colorful chalk on a New York sidewalk.
ATSU-ASHS Dean Ann Lee Burch, PT, EdD, MS, MPH, shared a touching email with the School during the initial outbreak of COVID-19. She mentioned her daughter, who was living in New York City at the time.
Ruby Jean Dudasik was a college senior attending New York University. While she should have been preparing for graduation celebrations, she instead prepared for the nightly celebration heard throughout the streets of New York. Every night at 7:00 p.m., when the shift change occurred at two local hospitals next to her apartment, the neighborhood roared with applause to show support for healthcare workers.
"Everybody just made a lot of noise," Dudasik said. "There are people clapping, my roommate and I go to our roof and slammed pot lids together."
For the first few weeks after the virus hit the city, there was a lot of sad and dark news, and it was hard for Dudasik to see the benefit of the applause. Then things started to change.
While stores closed and streets had less traffic, many people came together to show solidarity. Stores and restaurants left notes on the windows saying they will be back soon. Some patrons also left notes in response, saying how much they missed the establishment.
"There is this sense of camaraderie when you walk around the neighborhood," Dudasik said. "We are in this together, and when you stay home, you are doing your part."