Students take the IPE challenge
Posted: May 6, 2014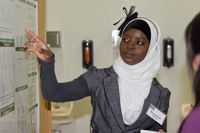 Students across ATSU are enhancing their own interprofessional educational (IPE) experiences. A huge University initiative, IPE is on the fast track at ATSU.
On Nov. 2, 2013, ATSU held its fifth annual Interdisciplinary Biomedical Research Symposium on the Missouri campus. Students, residents, faculty, and regional researchers presented current research activities, which helped promote collaboration among the groups.
The event was hosted by the Still Research Institute, who presented awards for Outstanding Research Posters to Nick Musso, OMS II, KCOM ($200-Overall); Jessica Lapinski, academic fellow, KCOM ($100); Joshua Moody, MS, '14, KCOM ($100); and Paul A.J. Baillargeon, DO, '09 ($100). Sigma Xi also awarded $200 to Nelson Ugwu, student, Truman State University, for best Research Poster presented by an undergraduate.
ATSU also hosted its second annual Interprofessional Education Collaborative Case Competition (IPE-CCC) on Nov. 2. IPE-CCC offers students an interprofessional teamwork experience and reveals the complexity of healthcare delivery and the need for collaboration among healthcare professionals to reach the best health outcomes for clients/patients.
This year's competition brought students together from four universities, representing 14 programs and 11 different professions. Prizes were awarded to the top three teams. The Dr. William McKinney Award for first place went to Mimi Bankiewicz, D1 (ASDOH); Christine Burris, AuD, '15; Bethany Galbraith, OT, '16; and Josie Harding, AT, '15.
Second place went to Pam Barnes-Palty, psychology student, Argosy University; Jennifer Garbarini, AuD, '16; AJ Hortin, PT, '15; Amanda Peterson, OT, '15; and Michelle Smith, nursing student, Grand Canyon University. Third place went to Jeremy Berger, OMS II (SOMA); John Crum, psychology student, Argosy University; David Lifferth, D2 (ASDOH); Caroline Lindsey, AuD, '16; and Katherine Rolston, OT, '16.
KCOM students Christine Beeson and Gabriel Eljdid and Truman State University students Ashley Anderson, Cody Campbell, Victoria Caskey, Emma Hosman, Alaina Kramer, Rachel Krauss, Alicia Kimberlin, Nikki Jerowski, Jessica Ray, Stephanie Thomas, and Kendra Woolman, were also recognized for their respective team presentations.
[rev_slider ipechallenge]