Students healing from Hurricane Maria find support at ATSU
Posted: August 13, 2018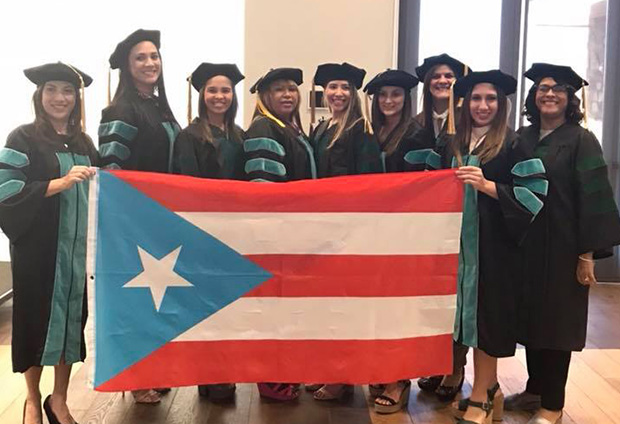 On Sept. 20, 2017, Hurricane Maria — a powerful Category 4 hurricane with 150 mph winds — made direct landfall on Puerto Rico, bisecting the entire island and drenching it with feet of rain. Hurricane Maria pounded the entire island of Puerto Rico, and the scope of the damage is still unfolding to this date. Residents were prisoners in their own homes, left with no electricity, running water, telephones, cell phones, or Internet. The devastation was catastrophic and disrupted the lives of every single Puerto Rico resident, to include 25 A.T. Still University (ATSU) students.
20 students were from the Post-Professional Doctor of Physical Therapy program and the remaining five were enrolled in the Post-Professional Doctor of Audiology program.
With the assistance of A.T. Still University's Arizona School of Health Sciences (ATSU-ASHS) Dean Randy Danielsen, PhD, PA-C emeritus, DFAAPA, Ann Lee Burch, PT, EdD, MPH, vice dean of ATSU-ASHS, Tammy Roehling, PT, DPT, director, transitional doctor of physical therapy, and Tabitha Parent Buck, AuD, professor and chair, the University quickly organized a $25,000 emergency fund for the ATSU students in Puerto Rico. Thanks to the immediate efforts of ATSU President Craig Phelps, DO, '84, and the controller's office, the funds were distributed to each of the affected students within days.
Transitional doctor of physical therapy student, Denisse Santiago, was living in Puerto Rico at the time Hurricane Maria swept through and she was very thankful for the emergency relief funds sent from ATSU.
"This has been an incredible gesture and has certainly helped me and my family in this difficult time. Our routines have drastically changed and we face difficulties to perform even the most basic tasks every day. Please keep our island in your prayers. We have a long way to go," noted Santiago.
ATSU's program directors and faculty were also incredibly diligent about maintaining contact with the affected students. In addition to the emergency funds provided, deadlines for the students were extended and late fees were excused.
Post-professional doctor of physical therapy student, Pura Santiago-Torres, was amazed by the tremendous support she received from ATSU during this trying time.
"This gesture goes beyond what I ever could have expected and touches my heart and my husband's. Thank you with all my heart, there are no words that can express the gratefulness of what ATSU has done for us," said Santiago-Torres.
ATSU leadership and faculty were equally astonished at how each affected student persevered despite the disaster at hand. The dedication the students maintained for the program studies was unbelievable. While many of the students were still shrouded in uncertainty for their future, many described using their studies as a way to distract from the destruction surrounding the island.
In spite of the odds stacked against them, all 25 students managed to stay on track and many were able to travel and be present for their recent program commencements. ATSU President Dr. Craig Phelps mentioned the experience and triumph of these students during the June commencement ceremonies. He specifically commended each student's perseverance.
The prompt reaction provided by University leadership and faculty is an incredible declaration to one of the best qualities of ATSU — bringing people together to not only overcome adversity, but to work together to solve problems and build community and to do so in a way that strengthens us as a University.
"This was a real testimony to the spirit and mission that encompasses ATSU," said Dr. Burch. "Everyone rolled up their sleeves and made something happen for the affected students. Timing was everything. To have that caring, rapid response from invested faculty and leadership is really what ATSU is all about."
Nearly one year after Hurricane Maria devastated Puerto Rico, conditions on the island are far from back to normal. While electricity has been restored to many parts of the island, an alarming number of citizens are still without running water.
ATSU will continue to have the residents of Puerto Rico in our thoughts.