Students and alumni gather at Winter Institute DHSc reception
Posted: February 26, 2016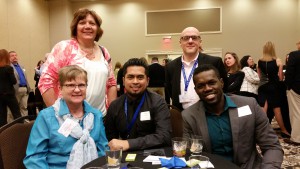 Doctor of Health Sciences (DHSc ) students and alumni met in February during the DHSc Winter Institute for a reception hosted by College of Graduate Health Studies (CGHS) Dean Don Altman. Dr. Altman shared the following updates with attendees:
The DHSc program is only as strong as its students and graduates, and we are fortunate to have you be part of this special network. We encourage you to stay in touch with one another as the program continues to grow. You are encouraged to join our group on LinkedIn to continue making connections.
We thank our Alumni Ambassadors who help in our recruitment and student mentorship efforts. If you would like to sign up to mentor students or to request an Ambassador, please do not hesitate to contact Alumni Relations.
The CGHS Alumni Board is being formed. It will include representatives from each CGHS program and lead initiatives in keeping alumni and students involved. Please look for additional information from the Board, and feel free to send us your ideas at any time. Take a look at our Facebook page for more photos of the reception.