Still Together: Brittani Robertson and Samantha Valentine
Posted: February 13, 2018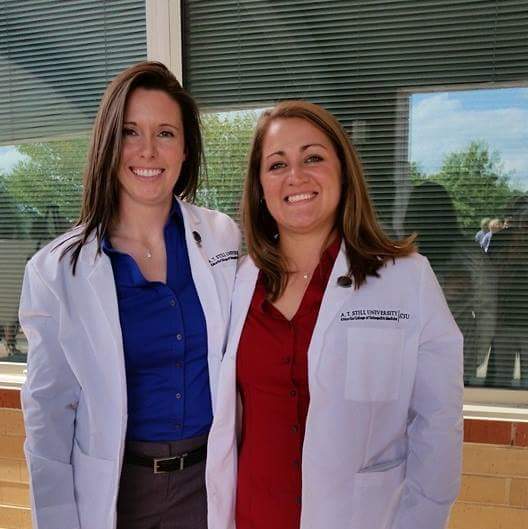 Brittani Robertson and Samantha Valentine, second-year students at A.T. Still University's Kirksville College of Osteopathic Medicine, are tackling their medical education by each other's side. The pair has been together for more than seven years.
"The process of applying to medical school was stressful, despite how long we had been together," Robertson says. "We are definitely aware of how lucky we are to be on this journey with each other. It's amazing to be able to go to class together, and come home and study together."
When it comes to classwork and studying, Robertson and Valentine are a perfect team. "We help each other with our weaknesses, and we learn together," Robertson says. Their nightly routine includes quizzing each other on class content while making dinner. Often, Robertson helps with anatomy, while Valentine helps with histology.
Like any couple, they have had their ups and downs, but learned to deal with their struggles using sarcasm and humor. "We're giant goofballs, and it's fantastic," Robertson says. "It's important for us to be lighthearted because it can be so easy to get wrapped up in yourself and forget about those around you. Bringing humor into the mix can break down that barrier."
For other student couples, Robertson and Valentine stress the importance of celebrating successes together, and picking each other up after a hard day. "We are each other's emotional rock. It helps tremendously when one of us has had a bad day to have someone who can understand our struggles. It is important for couples to remember that their partner's journey is much different from their own, but they can still be a reliable and understanding source of support," Robertson says.