Still serving the ATSU Mission: Christopher Hansen, MHA
Posted: May 2, 2016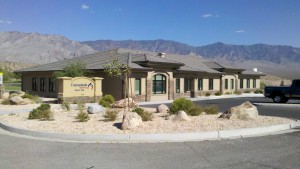 What began in Page, Arizona in 1973 as one of the only healthcare facilities for hundreds of miles, Canyonlands Healthcare (CHC) has become a central part of the community. Today, CHC continues to serve vulnerable and isolated populations through its now 10 locations across the northern and southeastern regions of the state.
Christopher Hansen, MHA, '12, A.T. Still University-College of Graduate Health Studies, has served in several capacities at Canyonlands Healthcare since 2008, and most recently as CEO. In his role, he has had the opportunity to launch two new facilities, both based in rural American Indian communities. Hansen, who has extensive experience working for Federally Qualified Health Center (FQHC) community health centers, says what makes Canyonlands Healthcare unique is their unwavering commitment to increase access and reduce health disparities.
"We are always striving to improve services by assessing and monitoring the health of each community, responding to emerging health trends and threats, developing and implementing policies to address the patient needs, and participating in collaborative efforts with local healthcare providers to identify and respond to health problems," says Hansen.
Hansen says that the team approach to care by leveraging health professionals, advocates, and community stakeholders at the state, county, and community level, ensures care is provided in a comprehensive and culturally appropriate way.
He adds that this approach is especially important to the communities they serve, but can also be challenging, considering CHC is "healthcare home" to patients from some of the most remote and isolated areas in the U.S.—including Arizona, Utah, Nevada, and New Mexico.
For the past five years Hansen has had the opportunity to help build programs that have further advanced services to patients. With a background in health administration, he decided to pursue a master's degree in health administration. After he learned that two of his co-workers earned degrees from A.T. Still University and discussing the University's emphasis on community health, Hansen decided to do some research of his own.
"I have been working in FQHCs for most of my career," says Hansen. "Community health is important to me, and it's where my passion lies. I really believe that we make a difference in the lives of the people we serve, and I was interested in completing a degree at a school that shared that same value."
In the future Hansen hopes to also create residential opportunities for graduates of ATSU's School of Osteopathic Medicine in Arizona. "I think it would be a very valuable rotation that gives them an idea of the many challenges providers in rural communities face when treating patients."
Still Serving the ATSU Mission features ATSU alumni continuing their service to the underserved.