Still Living the Mission: Behnoud Taghavi
Posted: March 31, 2017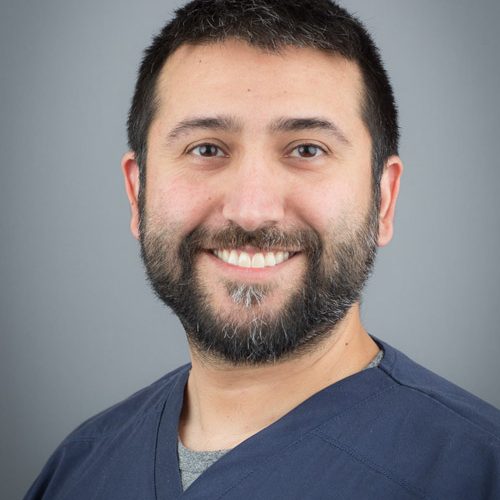 Behnoud Taghavi, DMD, '12, is a dentist at El Rio Community Health Center in Tucson, Arizona. He works with uninsured and underinsured patients who would not otherwise have access to care. He also supports dental students who are doing their clinical rotations at the center as an adjunct clinical faculty member of A.T. Still University- Arizona School of Dentistry & Oral Health (ATSU-ASDOH) and an adjunct faculty member of Lutheran Medical Center.
He loves his job.
"I just feel like I'm in the right place," says Dr. Taghavi. "I haven't looked back."
However, Dr. Taghavi wasn't always this confident in his career path. He studied business in college, and worked at IBM for two years, but decided he was better suited for a career in healthcare. He considered a variety of medical professions, searching for the perfect blend of science and art. Against his family's advice, he quit a steady job and moved back home at 25 to pursue a career in dentistry.
On May 28, 2007, Dr. Taghavi received a rejection letter from ATSU-ASDOH, his first-choice school. He had waited for news from the school for eight months; the letter arrived on his birthday.
Dr. Taghavi refused to be discouraged. "No part of me wanted to give up," he says. "I just wanted to become a better candidate."
To strengthen his application, he signed up for three more science classes, made plans to retake the dental exam, and continued volunteering in the community. During his second interview, he was asked what he would do if he got another rejection letter. "I told them I would keep applying," says Dr. Taghavi. "I knew this was what I wanted to do with my career."
This time, his hard work paid off. "When you finally get accepted, it's like you're on cloud nine," he says. "Once you've been rejected, that acceptance letter is even sweeter because you struggled to get there. It has made my dental profession better because I appreciate it more."
In the span of his five-year career in dentistry, Dr. Taghavi has experienced all the variety the field has to offer. He started his own private practice, and worked in a prison for the Arizona Department of Corrections before finding his way to El Rio. He advises aspiring dentists to pursue their passion, rather than a paycheck. "There are a million jobs that pay better without the headaches," he says. "It's a very stressful profession. If you don't truly love it, you're going to hate it really quickly."
Although working at a nonprofit community health center is not as lucrative as private practice, Dr. Taghavi has never been happier. "There are so many opportunities for collaboration," he says. "There is always someone to bounce ideas off of, and there are always opportunities to learn and grow. When you've gone through ATSU-ASDOH and embraced the mission, this just makes more sense."