Still Living the ATSU Mission: Pauline Wong
Posted: May 21, 2018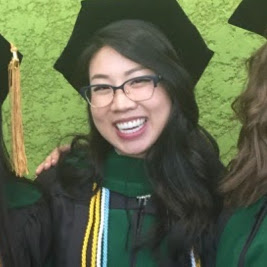 Pauline Wong, DO, '17, alumna of A.T. Still University's School of Osteopathic Medicine in Arizona (ATSU-SOMA), tells us about her journey to a career in medicine in her own words.
Q: What attracted you to ATSU-SOMA?
A: Put simply, ATSU had the same core values as I did. I was attracted to the idea that ATSU carried out their medical training with the emphasis on humanism in medicine and raising conscientious and compassionate physicians who give back to the community. The mission statement felt more genuine to me than other schools I was considering, and I liked the diversity of experiences the School offered. I also appreciated ATSU's mission to serve the underserved, and while this statement may be a commonality between many medical schools, I liked that ATSU really carried out this mission by sending medical students to community health centers across the nation.
Q: How did your education at ATSU prepare and inspire you to work with the underserved?
A: I really appreciate the experiences I had working with the underserved at ATSU. Especially my first year, it was a privilege working with such an incredible faculty. Even now looking back, I appreciate them for their example, compassion, inspiration, and leadership. I watched as Sharon Obadia, DO, comforted a homeless patient. Afterwards, we had a deep conversation about the difficulties of health access for the homeless in Phoenix. I would also hear how excited my classmates were when they would come back from humanitarian trips with Jeffrey Morgan, DO, MA, FACOI, CS, or Grace Stewart, MD. They would come back with so many inspiring stories of the people they met and communities they helped. Even my own classmates had dreams of using medicine for a greater purpose. I remember being deeply humbled and grateful to be in the company of such individuals. I remember when Lorree Ratto, PhD, would lecture on humanism and empathy in medicine. Many of the stories she shared left an impression on me to this day. Much of what I appreciate about my experience at ATSU was that "serve the underserved" was not just a fancy mantra that was thrown around. I watched as each individual on the faculty carried this out as a priority in their lives and incorporated it into their training of the next generation of doctors. I thought that perhaps this experience would be isolated to my time on campus, but I was wrong. When I went out on my clinical rotations my third and fourth year, I met physicians who not only enjoyed teaching, but were determined to help people through their profession.
It's very surreal to look back on your years in medical school. It's true what they say. The days are long, but the years are short. One second you're cramming for an exam, speed-reading through PowerPoints and going crazy with your highlighter in a dark, quiet library. The next second, you are a fresh, new resident intern, completely overwhelmed and perplexed with the power and responsibility you have over people's lives and health. It is quite the journey.
Being at ATSU kept me grounded. My priority was to find a profession and a skill set that would allow me to help people. ATSU nurtured this as a priority during my years there. Four years later, as a resident, it is still a priority, and I am excited for the opportunities in anesthesiology. Working at a county hospital has put me in an environment where most of our patient population is underserved, and this is a daily but worthwhile challenge for me.
As a reminder to myself and to my fellow students and physicians, while medicine serves as one platform, it is not the only platform we have to offer. Stay true to your priorities and find satisfaction in seeing others' lives bettered by your contributions. Remember why you became a doctor. It's hard a lot of the time, but don't forget where you came from and the difference you are making.
Q: What advice would you give someone who wants to pursue a career in medicine?
A: Of all the traits you need, perseverance is the most important. Be steadfast, despite difficulty or delay in achieving success. You may have to cope with a failed exam, needing to retake boards, failing a rotation, getting depressed during medical school, having difficulty choosing your specialty, challenging work environments, burnout, or struggling through residency. The list of challenges you will face on this journey goes on. Don't isolate yourself. Establish your support system. Surround yourself with people who will encourage and support you. Find a mentor. Exercise and eat healthy. Find reasons to celebrate. Appreciate the small things. Take care of yourself and maintain your hobbies, friendships, and livelihood. It's a long road ahead, but you will not be alone. Enjoy the growth, enjoy the learning, and enjoy the privilege that you get to help others and influence their lives with your skills and intentions.