Still Living the ATSU Mission: David McCall
Posted: July 27, 2018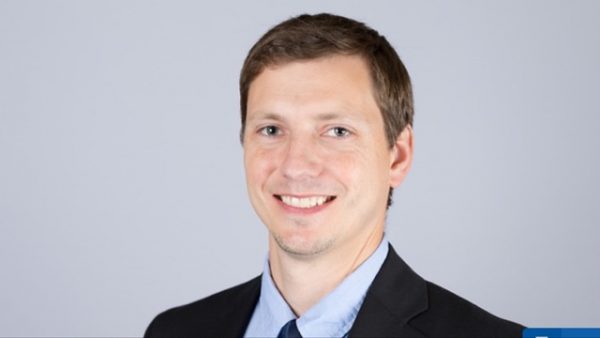 David McCall, DO, MSEd, '13, recently moved back to his hometown of Waco, Texas to begin his career as a surgeon. After four years of medical school and five years in a general surgery program, the A.T. Still University-School of Osteopathic Medicine in Arizona (ATSU-SOMA) alumnus is ready to apply his skills as a medical professional to help others, both locally and globally.
From a young age, Dr. McCall knew that healthcare was his calling. He grew up in Nigeria, where his parents worked as medical missionaries. The family moved back to Texas when Dr. McCall was in high school, but he continued to accompany his father on medical mission trips, providing much-needed care in underserved areas of Ghana, Haiti, and Cuba.
"That's what led me into medicine," says Dr. McCall. "I felt the calling to do medical mission work, serving people here in the U.S., but also in developing nations."
After completing his undergraduate and graduate education at Baylor University, Dr. McCall began the process of applying to medical schools. In researching his options, he realized ATSU-SOMA was the perfect fit.
"In choosing a medical school, I loved ATSU's holistic approach and the emphasis on caring for the whole person," he says. "ATSU's mission is to get students out into the community and train physicians who will engage in rural and underserved areas here in the U.S. and around the world. At my interview, I had a lightbulb moment. I said, 'This is where I'm supposed to be.' I was so excited when I got accepted."
Although Dr. McCall has put down roots in Waco, he plans to continue fulfilling ATSU's mission by providing medical care to underserved areas around the world. In fact, his employment contract includes time off for medical mission trips.
This commitment to service, locally and globally, runs in Dr. McCall's family. After years of medical mission work all over the world, his parents now run a ministry, Restoration Gateway, in Uganda. The ministry serves an area that has been devastated by war. Its programs include an orphanage, a hospital, a dental center, and a school.
"All the services they provide are critical to that area," says Dr. McCall. "I'd love to see their ministry flourish."
Dr. McCall also has some well-known relatives who are committed to serving others at a local level. His wife's sister is Joanna Gaines, star of the popular HGTV show, Fixer Upper. Joanna and her husband, Chip, give new life to old homes in Waco and surrounding areas, revitalizing neighborhoods and improving the community. The couple has also been very supportive of Restoration Gateway, holding fundraisers and even visiting the project in Uganda.
"It's great to see what they've done for the community," says Dr. McCall. "They've been able to impact a lot of people around the country and around the world. It's really neat to be cheering them on. They have big hearts to serve the community and give back on a global scale."
As if a burgeoning career and medical mission work weren't enough to keep him busy, Dr. McCall and his wife have their hands full with six young children. To maintain balance in his life, Dr. McCall is committed to being purposeful with his time, both at work and at home.
"When I get home, I really try to engage with my kids and my wife and not let those moments go by and miss out," he says. "I didn't want to put everything on hold for five years."
Of course, with so much going on his life, he does have to make some compromises.
"Vegging out and watching TV on the couch is something of the past," he jokes.
For Dr. McCall, all the hard work has been worth it, and he has some encouraging words for aspiring medical professionals.
"I always encourage people to pursue their dream, regardless of what it is," he says. "Your journey is going to be unique; it doesn't have to look like everyone else's. If you're passionate about something, and that's what you really feel called to, pursue it wholeheartedly. Stay the course."