Still Living the ATSU Mission: Danny McClure
Posted: September 18, 2017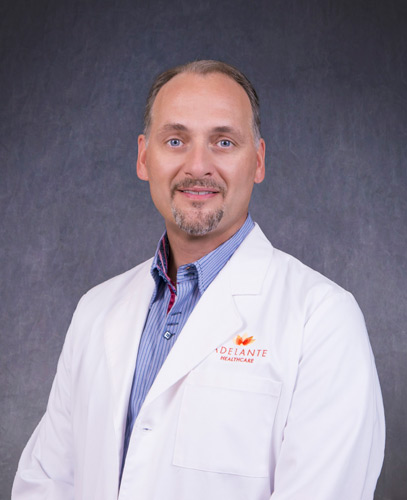 Danny McClure, DO, '13, recently returned to Adelante Healthcare, the community health center where he did his clinical rotations as a student at ATSU's School of Osteopathic Medicine in Arizona (ATSU-SOMA). Fresh out of residency, it's his steadfast commitment to A.T. Still University's (ATSU) mission that has inspired him to brave another blazing Phoenix summer.
Dr. McClure, a psychiatrist, leads an innovative program to integrate behavioral health and primary care. The collaborative model of care allows him to provide direct service to patients, while also advising the clinic's primary care physicians, with whom he works closely, on matters related to behavioral health.
In keeping with ATSU's mission, Adelante provides affordable healthcare in underserved communities. Dr. McClure is passionate about working with this patient population. He grew up in rural Alabama, and draws on his childhood experience with poverty to empathize with his patients.
"I remember having illnesses in my family, and there was never access to care," says Dr. McClure. "It was either too far away or not affordable. I would not want these barriers to prevent anyone else from accessing the care they need. I've found a way to serve in that capacity, and it is very fulfilling."
ATSU-SOMA's service-oriented education model was the perfect fit for Dr. McClure. He also embraced osteopathy's holistic approach to care.
"My fundamental job as a physician and a psychiatrist is to provide wellness, and we find our highest level of wellness through body, mind, and spirit," he says. "This is unique to osteopathic medicine. It's not always about medication or surgical intervention. There's so much more to wellness."
Dr. McClure is grateful that ATSU-SOMA gave him a chance to pursue his dream of becoming a physician. He now has a career that he loves, and has a positive impact on his patients' lives. In particular, he recalls a woman who suffered from severe anxiety and depression stemming from childhood trauma. With talk therapy, this patient is now able to hold down a full-time job, and is rebuilding relationships with her children and her parents.
"It's so fulfilling because not only does the patient get better, it has a ripple effect that improves the lives of the patient's family and friends," he says.
Thanks to alumni like Dr. McClure, this ripple of compassion flows through communities across the country.