Spread the word to end the word!
Posted: February 27, 2014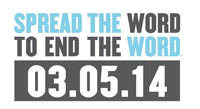 Do you know how the R-word (retard or retarded) hurts a human being? Are you aware that dehumanizing language is still used in our professional communications?
On Tuesday, March 4, a Special Olympics Sports Expo will be held on the front lawn of the main building, where you can interact with Special Olympians in football, bocce ball and other games. Lunch will be provided.
Then on Wednesday, March 5, a Still Healthy lecture, The Human Element, will be presented by Tim Lukavsky, DDS, assistant clinical director, ATSU-ASDOH, and Dan McCauley, Special Olympics athlete and coach. Please join us from noon to 1:00 p.m. in Ocotillo on the Arizona campus, where lunch will be served and you can obtain a Still Healthy credit.
We hope that you will take this opportunity to learn more about the Spread the Word to End the Word Campaign and how you can strive to encourage respect for all people including those with neurodevelopmental disorders and intellectual disabilities (ND/ID).
For more information please e-mail Sarah Usher.
We would like to extend a thank you to our event sponsors:
American Academy of Developmental Medicine and Dentistry
American Medical Student Association (AMSA)
American Student Dental Association (ASDA)
ATSU Still Healthy Program
Special Care Dental Association
Special Olympics Arizona
Student Government Association- Arizona
YMCA – Ross Farnsworth