Spread the word to end the R-word!
Posted: November 25, 2013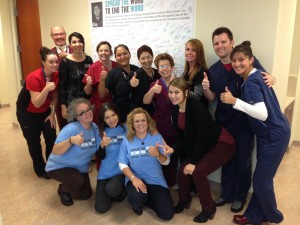 Working with Maureen Romer, DDS, MPA, director of special care dentistry and associate dean, post-doctoral education, A.T. Still University's Arizona School of Dentistry & Oral Health (ATSU-ASDOH), and the Center for Advanced Oral Health, the ATSU American Academy of Developmental Medicine and Dentistry (AADMD) student chapter has developed the first of many End the R-Word campaign events on the Mesa, Ariz. campus.
The campaign serves to create awareness of the derogatory use of the R-word (retard or retarded) and its negative effects on people with intellectual disabilities, as well as their families and friends. More than 100 students, faculty, staff, and community members have signed the banner and pledged to stop the use of the R-word.