Sister Cities project demonstrates interdisciplinary education and cross-cultural collaboration
Posted: March 27, 2013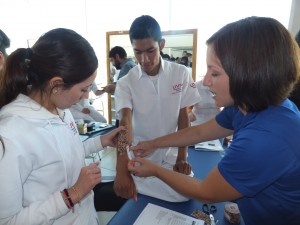 Rachel Diamant, PhD, OTR/L, BCP, associate professor, and Melissa Clark, MS, OTR/L, CHT, assistant professor, A.T. Still University's Arizona School of Health Sciences occupational therapy (OT) program, led an OT delegation to Hermosillo, Mexico, to promote an interdisciplinary cultural exchange experience for students and healthcare practitioners. The Sister Cities Disability Awareness Committees of Phoenix and Hermosillo sponsored the OT delegation which was in Hermosillo Feb. 28 through March 4.
Along with Dr. Diamant and Clark, the delegation included seven second-year OT students: Liza Travis, Jennifer Clugston, Estefania Shockley, Angela Martinez, Saundra Watts, Shira James, and Patrick Conway.
Dr. Diamant and Clark presented a two-day training workshop about the uses and applications of kinesiology tape for 25 physical therapy students of the Universidad de Valle de Mexico (UVM) and 25 local healthcare practitioners, including members from DIF Municipal y Cuidades Hermanas de Hermosillo, Dr. Reynaldo Trujillo Felix from Medicina de Rehabilitacion, and members of a local group of athletic trainers.
The workshop provided an overview of the profession of occupational therapy and a lecture on the uses of kinesiology tape in the management of pain, swelling, joint and muscle support due to injury or disease. Students and practitioners also had the opportunity to experience the use of kinesiology tape application for specific joints and muscles of the body during the lab portion of the workshop.
To promote the cultural exchange focus of the Sister Cities mission, individuals and agencies of Phoenix and Hermosillo coordinated their efforts to ensure success of this experience. The ATSU OT program prepared the training booklets and loaned scissors and markers for the workshop. Patterson Medical Corporation donated the rolls of kinesiology tape for the workshop lab practical component. Laboratory space for the workshop was provided by UVM. The Hermosillo Sister Cities Committee organized transportation and social events for the members of the OT delegation to meet with local healthcare practitioners, UVM faculty and students, DIF, and other prominent citizens of the Hermosillo community. UVM physical therapy students provided housing for the ATSU OT faculty and students.
"I feel very fortunate to have had the opportunity to be part of this trip," said Clugston. "I felt welcomed and appreciated by the Sister Cities and host students that opened up their homes and classrooms to us. This was an inspiring trip that not only offered a medical exchange of knowledge, but a cultural one as well."
"The sharing of ideas and discussion of healthcare and rehabilitation services, and discussion of plans for future training workshops, allowed for a valuable cultural exchange and experience for all involved," said Dr. Diamant.