SHM commencement
Posted: November 1, 2011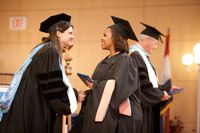 When May 28, 2011
Where Ophelia Parrish Performance Hall, Truman State University, Kirksville, Mo.
Programs Geriatric Health, Health Administration, Health Education, Public Health, Public Health – Dental Emphasis, Health Education
Notable This was ATSU-SHM's ninth commencement. Attendance is not a requirement; however, more and more students make the journey each year. One grad traveled from as far as Jamaica to shake hands with ATSU President Jack Magruder and SHM Dean Kimberly O'Reilly, D.H.Ed., M.S.W. The event also was broadcast online via video stream for the first time, where hundreds more watched live.
Keynote Thomas Curtin, M.D., senior vice president and chief medical officer of the National Association of Community Health Centers. "We believe quality healthcare is a right for all Americans," he said.
Quotable "I love that [the Master's in Public Health program] is online because I work 8-4. It's been challenging learning new things, and what I previously thought public health was has been changed for the better," said Ashley Hill, M.P.H., '11. Hill is a research assistant at Proctor & Gamble and hopes to attend medical school, become a pediatrician, and develop public health policies.
Who 241 total graduates, 49 total grads who walked, 400+ friends and family attending, 32 states represented
Master's degrees conferred
1 Geriatric Health
30 Health Administration
5 Health Education
94 Public Health
44 Public Health – Dental Emphasis
Doctoral degrees conferred