Sharing a smile
Posted: October 26, 2018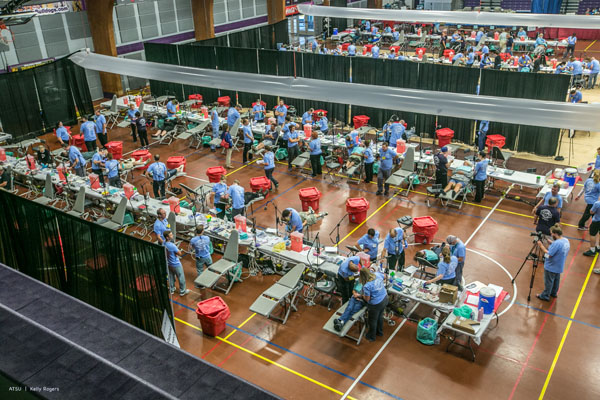 Volunteers provided more than $815,000 in free dental care to approximately 1,200 patients.
Sharing a smile can brighten someone's day. For volunteers at Missouri Mission of Mercy (MOMOM), sharing a smile included more than showing a smile on their face. It was about restoring health to people in their community.
On Aug. 3 and 4, hundreds of volunteers transformed Truman State University's Pershing Arena in Kirksville, Missouri, into a dental clinic and provided free oral healthcare to underserved populations.
"It is phenomenal to be in a huge gymnasium buzzing with people who are there simply to give themselves to help another human being," says 2018 MOMOM Co-chair Tisha R. Kice-Briggs, DDS, member, ATSU Board of Trustees. "It is such an uplifting event that gives me faith in society."
Having been involved with MOMOM since its start in 2011, Dr. Kice-Briggs has seen its impact. She previously served as a volunteer completing fillings and extractions. As a full-time dentist, she enjoys using her unique skills to serve patients.
"It feels great to help people in need," says Dr. Kice-Briggs. "This event gives me a renewed sense of gratitude and appreciation for my profession."
As co-chair of 2018 MOMOM, Dr. Kice-Briggs was excited to see the clinic in her own community. This was the seventh annual event and was the first time the clinic came to northeastern Missouri. Kirksville is the smallest town to host the clinic thus far.
"Providing these basic services changes people's lives," says Dr. Kice-Briggs. "Having a healthy, attractive smile gives people back their confidence and their basic health."
Another Board of Trustees member was in attendance as a volunteer. Bertha Thomas, who grew up poor in Detroit, Michigan, knows firsthand the value of MOMOM's mission. Unable to afford health and dental insurance, Thomas first saw a dentist in her teen years. As a high school student, she had major dental problems.
"These problems affected my health and self-esteem," says Thomas. "I understand what it means to be unable to afford to go to a dentist."
Holding MOMOM's mission close to heart, Thomas volunteered by raising funds through a Mother's Day brunch, recruiting French and Spanish interpreters, and serving as a general volunteer at the clinic.
In addition to two board members, ATSU-KCOM Dean Margaret Wilson, DO, '82, and ATSU-MOSDOH Dean Dwight McLeod, DDS, MS, more than 100 ATSU faculty, staff, and students served in various areas of the clinic. The event provided more than $815,000 in free dental care to approximately 1,200 patients.