Shared values
Posted: May 21, 2010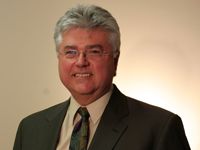 Higher calling leads audiologist to give back
He loves what he does, and that urges him to give back. "I live in a neighborhood that includes people in different professions, but many hate what they do.
I am truly blessed I am in a profession that I love every day," says Charles Stone, Au.D., '01, a founding member of the Arizona School of Health Sciences.
A practicing audiologist for the last three decades, Dr. Stone is also the founder and chief executive officer of the Plymouth, Minn., based Ear Service Corporation (ESCO), a leading provider of loss and damage coverage for hearing instruments.
The gift of hearing and the gift of giving seem to run parallel for Dr. Stone. As he invests in a profession he loves, he is nurturing future generations of audiologists by supporting ATSU.
According to Dr. Stone, the university is one of only two nationwide that offer a doctoral degree in audiology from a department that is independent, audiology-only, and founded in science rather than a communications disorders background.
Dr. Stone loves ATSU-ASHS' "outstanding program that leads to a higher standard for the profession."
The school's grounding in the osteopathic philosophy is also important.
"When a patient comes to my office with a hearing problem, I look at the bigger picture. Here, the osteopathic philosophy makes me think outside the box and more holistic, which makes ATSU unique."