Serving children in need
Posted: September 23, 2020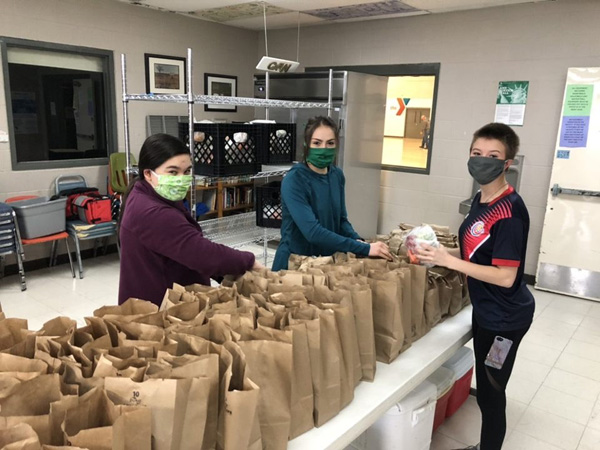 Kimmie Olson from Truman State University, Carolyn Grachen, OMS II, and Autumn Graves, OMS II, prepare school lunches.
When ATSU-KCOM's Christine Harb, OMS III, learned schools in the Kirksville, Missouri, community had closed their doors due to the coronavirus pandemic, she knew she wanted to help in whatever way she could.
After reaching out to area leaders, Harb discovered a program through the local YMCA to prepare and distribute lunches to children in need. Working with her classmate, Barbara Senger, an osteopathic manipulative medicine fellow, she quickly organized a large group of student volunteers to participate in the program.
"Many of the local students would be receiving free breakfast and lunch at school," said student volunteer Michaela Roberts, OMS III. "With schools closed and parents possibly out of work, some families were needing the extra support."
Volunteers signed up for shifts and worked to fill the program's needs, including food preparation, packaging, delivery, and cleanup.
Since the program began on March 17, it has expanded its impact by providing both breakfast and lunch, and extended delivery into weekends. Volunteers prepare hundreds of meals each day and more than 42,000 meals were served through late July.
"I always say that if we truly wish to heal our patients, we must heal the world around them, too," Harb said. "Making meals through this program is our way of starting that process."